'Karate Kid' YouTube Series 'Cobra Kai' Is Faithful To The Movie, Not A Comedy [TCA 2018]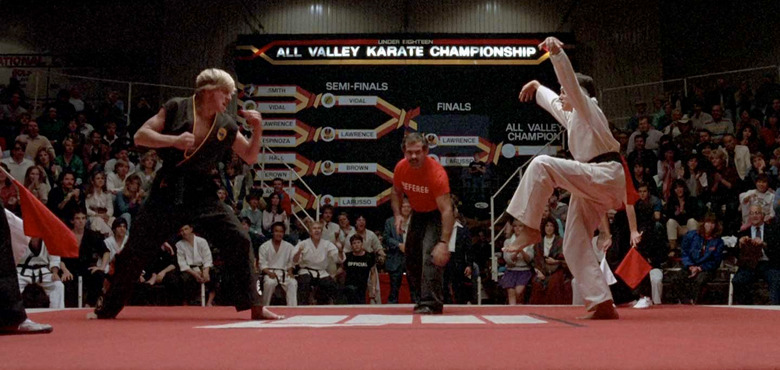 YouTube Global Head of Original Content Susanne Daniels was on an executive panel for the Television Critics Association, an /Film got the chance to ask her about the upcoming YouTube Red original series Cobra Kai, based on the 1980s classic The Karate Kid.
In Cobra Kai, Ralph Macchio and William Zabka reprise their rival roles as Daniel LaRusso and Johnny Lawrence from the original movie. Though the series comes from Harold and Kumar franchise creators Jon Hurwitz and Hayden Schlossberg, and Hot Tub Time Machine writer Josh Heald, Daniels said Cobra Kai is not a straight comedy.
Find out more about the Karate Kid YouTube series below.
"It is a half an hour format but I would call it a dramedy," Daniels said. "I think it leans into the tone of the movies in that there are dramatic moments throughout. I think it's very faithful really in some ways to what the movie set about doing, the lessons imparted in the movie if you will. It's next generation Karate Kid."
The premise of Cobra Kai, set present day, is that Johnny (Zabka) reopens the old Cobra Kai dojo, reigniting his old rivalry with Daniel LaRusso (Macchio). Both Daniel and Johnny have teenage kids of their own now.
The Karate Kid spawned three sequels, and 30 years of people saying "Sweep the leg" or "Wax on, wax off." However, Daniels acknowledged Cobra Kai can't coast on nostalgia alone.
"What's interesting, I find, is that it doesn't have to be a hit movie," Daniels said. "A hit movie doesn't necessarily mean a hit TV series. Clueless is a movie I still like and still watch. The TV version of it wasn't great, I thought, all due respect to Amy Heckerling. Buffy the Vampire Slayer was not a great movie and Joss [Whedon] did a great job making the series. It's about finding the right movie and finding the right director/producer/writer team that understands how to take the movie and make it into a series franchise."
Clueless did run for three seasons, but to Daniels' point, TV is littered with short-lived adaptations of the likes of Ferris Bueller, Limitless, Minority Report and Rush Hour. YouTube is also turning the Step Up franchise into a TV series, and Daniels is open to other TV series adaptations of movies too.
"I can't say I have anything in development right now, but I'm certainly open and always looking to working on that kind of content," she said.
Cobra Kai debuts this spring on YouTube Red.