Hank Azaria Addressed 'The Problem With Apu' On 'The Simpsons' [TCA 2018]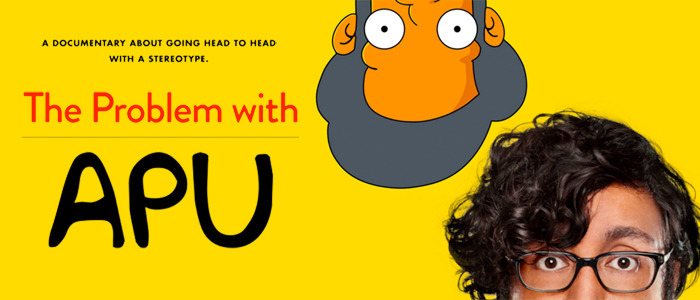 Last year, comedian Hari Kondabolu released a documentary called The Problem with Apu, addressing problems the titular character from The Simpsons, a convenience store owner of Indian-American descent. Hank Azaria, who voices Apu, was on a Television Critics Association panel for season two of his IFC series Brockmire when he was asked about the documentary. Azaria was grateful for the chance to respond, but does it mean The Simpsons will make any changes to the character?
Find out what Hank Azaria had to say about The Simpsons Apu problem below.
"Thank you for asking me [about The Problem with Apu," Azaria said. "Yes, of course, I did see it, and let me see if I can tell you how I feel about that. The idea that anybody, young or old, past or present, was bullied or teased or worse based on the character of Apu on The Simpsons, the voice or any other tropes of the character is distressing. And especially in post-9/11 America, the idea that anybody was marginalized based on it or had a hard time was very upsetting to me personally and professionally."
Azaria continued to express the warmth with which he intends to portray Apu.
"It's a character that I've done for 29 years now, and I've done it with a lot of love and joy and with pride," Azaria said. "[Creating negative stereotypes] certainly wasn't the intent. The intent was to make people laugh and to bring joy. So that it caused any kind of pain or suffering in any way, it's disturbing, actually. I've said it before, and I'll say it again. I don't see the character of Apu as one dimensional. I see him as having a lot of wonderful qualities and great assets."
Part of The Simpsons' brand of comedy is pushing boundaries. In a post-South Park and Family Guy world, it may seem quaint to remember parents and teachers' outcry when Bart Simpson said, "Who the hell are you?" Still, The Simpsons has always been a bit edgy from time to time.
"As far as The Simpsons is concerned, with comedy, as you know, it's often a fine line between what's funny and what's offensive or insulting or upsetting," Azaria contitnued. "The Simpsons over the years has been pretty humorously offensive to all manner of people: Republicans, Brazilians, presidents, school principals, Italians, you name it. They take a lot of pride over there in not apologizing for any of that. I think, over the years, they've done a really good job of being, shall we say, uniformly offensive without being outright hurtful, which is certainly never the intent."
That said, Azaria said The Simpsons is sensitive to the number of Indian-Americans who have said enough is enough with Apu.
"As far as what is going to happen with the character going forward, it's really not just up to me," Azaria said. "I think it's really important when people express themselves about racial issues, what they feel is unfair or upsetting or distressing or makes them angry, upset, hurt, the most important thing to do is listen, try to understand, try to sympathize, which is what I'm doing. I know that The Simpsons guys are doing that too. They are giving it a lot of thought. We've discussed it a little bit, and they will definitely address, maybe publicly, but certainly creatively within the context of the show, what they want to do, if anything, differently with the character. So thank you for asking."
The Simpsons airs Sunday nights at 8pm on Fox. Brockmire returns April 18, 2018 on IFC.