Blumhouse Would Like To Reboot 'Friday The 13th'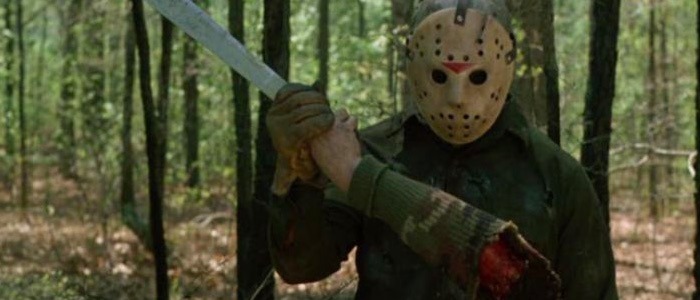 After they get done rebooting Halloween, Blumhouse would like to take a crack at a Friday the 13th reboot. Jason Blum, president of the wildly successful horror (and Whiplash) distributor, says that the next franchise he'd like to set his sights on is the one that features hockey-masked slasher Jason Voorhees.
Blumhouse is currently in the process of rebooting the Halloween franchise, with David Gordon Green directing and co-writing with Danny McBride. It's an exciting new step in the Halloween series, and Blumhouse doesn't seem content to just stop at one classic franchise reboot. Speaking with CinePOP (via MovieWeb), Blumhouse head honcho Jason Blum said that he'd be down to relaunch the Friday the 13th series:
"Besides Halloween? You know, I really wanted to do Friday the 13th. I would love to do that movie. Maybe someday we'll get do to that one."
Launched in 1980, the Friday the 13th franchise spawned 12 films (including a reboot). In case you don't know, the franchise focuses on Jason Voorhees, an undead slasher who dons a hockey masks and slices and dices his way through horny teens. The series took Jason from the camp grounds of Camp Crystal Lake, to the mean streets of Manhattan, to space itself. There's also a very popular video game based on the movies that I hear all the cool kids play.
The series was rebooted by Michael Bay's Platinum Dunes in 2009, and while that film was a box office success, it failed to spawn sequels like the original franchise. Since then, there have been numerous plans to relaunch the series, none of them successful. 2009 reboot producers Brad Fuller and Andrew Form wanted to make another film in the series, and Warner Bros. said they would release a film on August 13, 2010. That, obviously, never came to pass. Fuller eventually revealed that potential film was completely dead.
Beyond that, there were other plans, including a potential "found footage" sequel that was eventually killed due to fan outrage. Eventually, the rights to the series passed from Warner Bros. to Paramount, and things were ramping up for a brand new film to begin production in 2017 with director Breck Eisner. But with less than six weeks go to before the start of principal photography, Paramount pulled the plug on the film, citing the box office failure of Rings as the reason. Now the future of the series is anyone's guess.
As of now, there's nothing official. This is a pipe-dream; something Jason Blum says he would like to happen. But if Blumhouse can work out some sort of deal with Paramount to produce a Friday the 13th reboot, Blum's wish may just come true. The attention Blumhouse has been giving to the Halloween reboot, going so far as to recruit original Halloween director John Carpenter and original star Jamie Lee Curtis, indicates they're committed to getting that film right. If they could apply the same sort of care to Friday the 13th, fans might be in for a treat.