Bob Odenkirk To Star In Action Movie From 'John Wick' Writer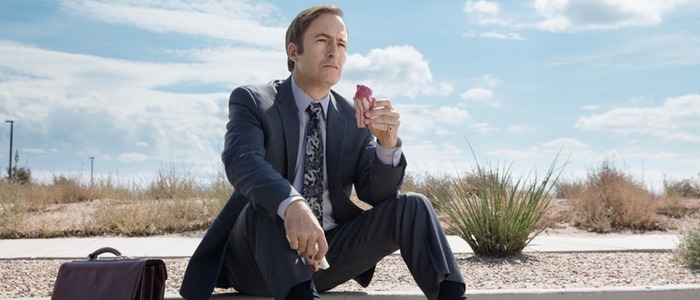 Bob Odenkirk, of Mr. Show and Better Call Saul fame, is about to become an action star. Odenkirk will produce and star in the new action thriller called Nobody, from John Wick and Atomic Blonde producers, with a screenplay from John Wick writer Derek Kolstad. This news is both extremely unexpected and extremely cool. Bring on Bob Odenkirk's John Wick moment.
After tackling both comedy and drama, Bob Odenkirk is going to try his hand at action, and folks, I am extremely here for it. Deadline reports that Odenkirk is teaming with STXfilms and the producers behind Atomic Blonde and the John Wick films to produce and star in the action thriller Nobody. Per Deadline, the story "follows a man who comes to the defense of a woman being harassed by thugs, only to learn later that one of the men he put in the hospital is the brother of a drug kingpin, now out for vengeance." I'll be honest: that plot doesn't sound that great, and falls back on standard "lone man pushed too far" tropes, but I'm willing to temper my concerns simply because the concept of a Bob Odenkirk action movie is incredible.
Derek Kolstad, who wrote John Wick and John Wick 2, will tackle the screenplay, and John Wick and Atomic Blonde producers David Leitch, Chad Stahelski and Kelly McCormick are all on board as well. Odenkirk may not look like your typical action star, but people said the same thing before Liam Neeson retooled his career as a professional ass-kicker with Taken. On top of all that, Odenkirk is a fantastic actor. After being associated primarily with comedy for years due to projects like Mr. Show, Odenkirk revealed he had serious dramatic chops with his turn on Breaking Bad and its spin-off show Better Call Saul. Odenkirk also recently appeared in Steven Spielberg's The Post, where he was one of the biggest standouts in a packed, impressive cast.
The thought of Odenkirk in a neon-lit, John Wick-style action thriller is too cool to ignore. I want to see this movie immediately, please and thank you. Beyond Nobody and the upcoming new season of Better Call Saul, Odenkirk will next be seen, or rather, heard, in Incredibles 2. He was also announced to star as late journalist David Carr in an AMC adaptation of Carr's memoir Night of the Gun, but word on the project has been rather quiet since the initial announcement.