'John Wick' TV Show 'The Continental' Could Feature Keanu Reeves [TCA 2018]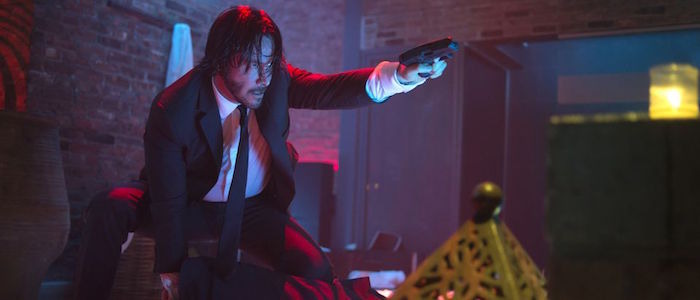 Starz announced to the Television Critics Association they are developing a TV series based on John Wick. The Continental will be a series about the film's hotel chain built for assassins. Starz President of Original Programming Carmi Zlotnick said Keanu Reeves will be involved in multiple capacities.
"Yes, Keanu is an executive producer," Zlotnick said. "I think you can expect to see him at some point in the series. That is part of the ongoing conversation."
Chris Albrecht, CEO of Starz, confirmed that The Continental would exist concurrent with John Wick films. John Wick: Chapter 3 is currently in the works.
"The show and movies exist side by side," Albrecht said. "There'll be no conflict. It's unclear what Keanu's role will be, but cerainly the show is not designed to have him in the lead."
Starz is a Lionsgate company and Lionsgate releases the John Wick films. This is an important collaboration between the network and studio.
"It's important to know that comes through our relationship with Lionsgate," Zlotnick said. "It's based on a very successful film franchise. The Continental is going to be set in the John Wick universe at his hotel that is a refuge for assassins."
Albrecht added that Starz looked at the fan base surrounding the films as an advantage to creating a TV show.
"This is an opportunity to really engage in the phenomenal fan base that has risen up around the John Wick franchises," Albrecht said. "We're very excited about this. [It's] one of those great social media phenomenal fan bases that just help have a voice in recommending shows to peers."
A press release elaborated that The Continental focuses on the inner workings of the hotel. Writer/producer Chris Collins (writer on The Wire, producer on Sons of Anarchy) will be showrunner and write The Continental. John Wick co-director and Chapter Two director Chad Stahelski will direct the pilot. John Wick veterans David Leitch, Derek Kolstad and Basil Iwanyk are executive producers along with Reeves.
In the press release, Albrecht gave an additional quote that confirmed the John Wick level of action would continue in the series.
"This series is truly unlike anything else on TV," said Albrecht. "The Continental promises to include the thunderous fight sequences and intensely staged shootouts between professional assassins and their targets that fans have come to expect in the John Wick movie franchise as well as introducing some new, darkly compelling characters who inhabit this underground world."