The 'Phantom Thread' Score Is Now Streaming, Watch A Few New Clips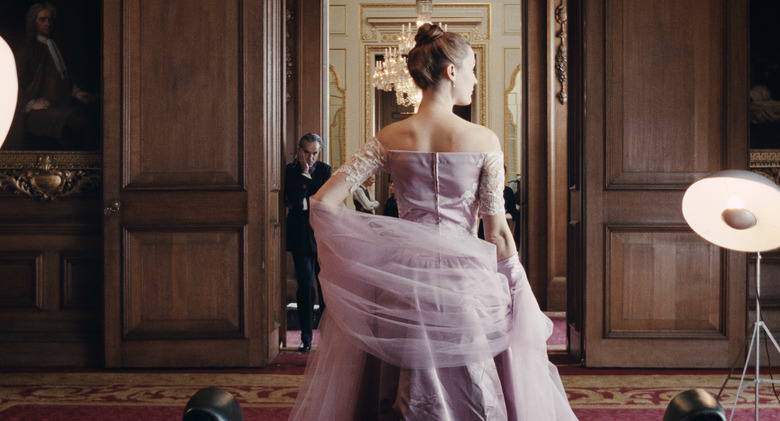 Only a few people have been able to see Phantom Thread in theaters since its limited release in December, but the Paul Thomas Anderson movie remains as tantalizing as ever. The release of its gorgeous, stirring soundtrack certainly helps.
The score by Jonny Greenwood, who has collaborated with Anderson three times before on There Will Be Blood, The Master, and Inherent Vice, is a work of art on par with the haute couture dresses that Daniel Day-Lewis' fashion designer crafts in the film, which he creates with the help of his sister Cyril (Lesley Manville) and his muse, Alma (Vicky Krieps).
Greenwood has yet to earn an Oscar nomination for his work, but hopefully his score for Phantom Thread will change that. The Radiohead lead guitarist and keyboardist has proven to have a gift for film scoring and this evocative score landed him a Golden Globe nomination, though he lost out to Alexandre Desplat for The Shape of Water.
The full Phantom Thread soundtrack — which Greenwood told Variety was influenced by the film's 1950s setting, is now available on Spotify. The soundtrack will also be made available on CD on February 9 and vinyl April 21.
"We talked a lot about '50s music, what was popularly heard then as well as what was being written and recorded," Greenwood explained about his score in his interview with Variety. "Nelson Riddle and Glenn Gould's Bach recordings were the main references. I was interested in the kind of jazz records that toyed with incorporating big string sections, Ben Webster made some good ones, and focus on what the strings were doing rather than the jazz musicians themselves."
It's obvious that Greenwood put meticulous thought and energy into the score. Every aspect of the film was handled just as meticulously, especially the costume design upon which the plot hinges. Costume designer Mark Bridges was given under six months to replicate the high fashion of 1950s post-war London. In a featurette for Phantom Thread, Bridges described how over 50 original wardrobe pieces were created for the film — all of which were inextricably tied to the story and designs of Daniel Day-Lewis' character, Reynolds Woodcock.
This featurette, and several more clips below, are released ahead of Focus Features expanding the film's limited release nationwide to over 20 cities. Phantom Thread is also being shown in 70mm and digital in Los Angeles, New York City, San Francisco, Austin, and Chicago.
Phantom Thread opens nationwide on January 19, 2018.
Set in the glamour of 1950's post-war London, renowned dressmaker Reynolds Woodcock (Daniel Day-Lewis) and his sister Cyril (Lesley Manville) are at the center of British fashion, dressing royalty, movie stars, heiresses, socialites, debutantes and dames with the distinct style of The House of Woodcock. Women come and go through Woodcock's life, providing the confirmed bachelor with inspiration and companionship, until he comes across a young, strong-willed woman, Alma (Vicky Krieps), who soon becomes a fixture in his life as his muse and lover. Once controlled and planned, he finds his carefully tailored life disrupted by love.