'Here And Now' Trailer: Holly Hunter, Tim Robbins Lead HBO's Multi-Racial Family Drama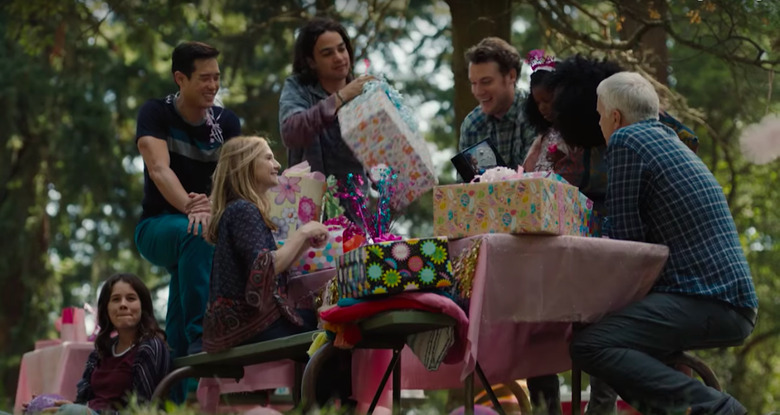 Talk about a modern family.
Alan Ball, the creator of acclaimed HBO series like  Six Feet Under and True Blood, has returned to the network with a new series called Here and Now, which follows a multi-racial adopted family who is suddenly thrown into disarray when one of the kids starts having strange visions.
Here and Now Trailer
Regular families are dysfunctional enough, but when the kids feel like they're "poster children for how progressive their parents are," it opens a whole new level of dysfunction. The Here and Now trailer introduces the Bishop family, headed by Holly Hunter and Tim Robbins, who have one birth child and three adopted children of Colombian, Somalian, and Vietnamese descent. It already sounds like a sharp and topical "prestigious" take on the American multi-ethnic families that have emerged in reality and on television — Modern Family and The Fosters have been tackling this topic for years, albeit with a more family-friendly approach. Already Here and Now lives up to being an HBO show with a montage of sex, more sex, waterfalls, and large deer.
But other than the growing dread and unease taking root in America ("So much hatred going around. It feels like the world's falling apart," Robbins' character notes at one point), Here and Now throws in one more twist: Ramon (Daniel Zovatto, Fear the Walking Dead) starts to have strange visions. Though he insists "something is trying to communicate with me," Hunter's character Audrey fearfully believes that he's losing his mind.
Here is the brief one-line synopsis for Here and Now:
When one child of a multi-ethnic family begins to see things that others cannot, the entire family is tested.
The Here and Now cast is rounded out by Jerrika Hinton, Raymond Lee, Sosie Bacon, Joe Williamson, and Andy Bean.
Here and Now is set to debut on HBO on February 11, 2018 at 9pm.