'Black Panther' Featurette Introduces Okoye And Nakia, Warriors Of Wakanda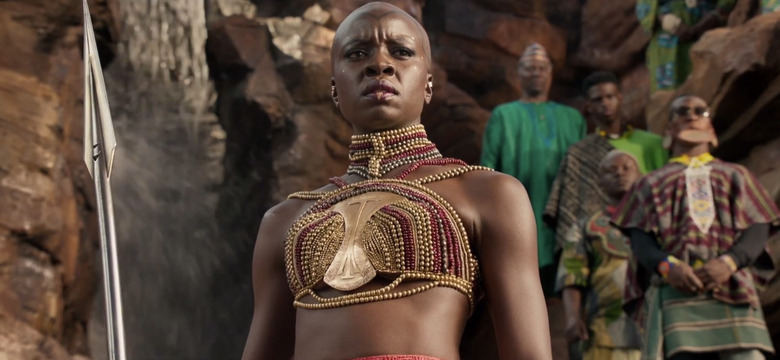 Black Panther doesn't hit theaters for a little over a month, but the movie is already breaking records by selling more advance tickets in its first day of sales than any other Marvel Cinematic Universe title that came before it. This looks like it will be an even bigger movie than some have speculated, and the more footage we see from Chadwick Boseman's first solo big screen outing as the superhero, the cooler it looks.
A new Black Panther featurette has arrived online, this time focusing on two specific warriors of Wakanda. There's Okoye, played by The Walking Dead star Danai Guriria (seen above), and Nakia, played by 12 Years a Slave star Lupita Nyong'o. The featurette not only provides some key details about each of their characters, but shows them kicking ass in the secretive African stronghold of Wakanda.
Black Panther Featurette
Easily the coolest thing about this featurette is seeing more footage of Okoye leading the Dora Milaje, the personal bodyguards of the Black Panther, recruited from every tribe of Wakanda. Seeing how synchronous their movements are is quite the sight to behold, and if they fight just as fluidly as they move in the new snippets of footage in this featurette, then the action sequence where they battle Erik Killmonger (Michael B. Jordan) is going to kick some serious ass.
But Okoye and the Dora Milaje aren't the only ones taking care of business. There's some brief new bits of Nakia taking down some bad guys in a sequence that looks like it could be straight out of a James Bond movie, albeit a James Bone movie unlike any that we've seen before.
Aside from the action, what really stands out in all the footage is the intricate and stunning production design by Hannah Beachler (who worked on Moonlight and Creed) and the costume design by Ruth E. Carter (Selma). Neither of these woman have worked on a Marvel movie before, and this just goes to show you how important it is that new talents be brought in to even the most established franchises to bring in some new style and perspective.
In case you missed it, here's one more featurette looking at T'Challa's inheritance of the Wakanda throne:
Here's the official synopsis for the movie:
Marvel Studios' "Black Panther" follows T'Challa who, after the death of his father, the King of Wakanda, returns home to the isolated, technologically advanced African nation to succeed to the throne and take his rightful place as king. But when a powerful old enemy reappears, T'Challa's mettle as king—and Black Panther—is tested when he is drawn into a formidable conflict that puts the fate of Wakanda and the entire world at risk. Faced with treachery and danger, the young king must rally his allies and release the full power of Black Panther to defeat his foes and secure the safety of his people and their way of life.
Black Panther hits theaters on February 16, 2018.