'The Handmaid's Tale' Season 2 First Look: The Hulu Series Steps Beyond Margaret Atwood's Book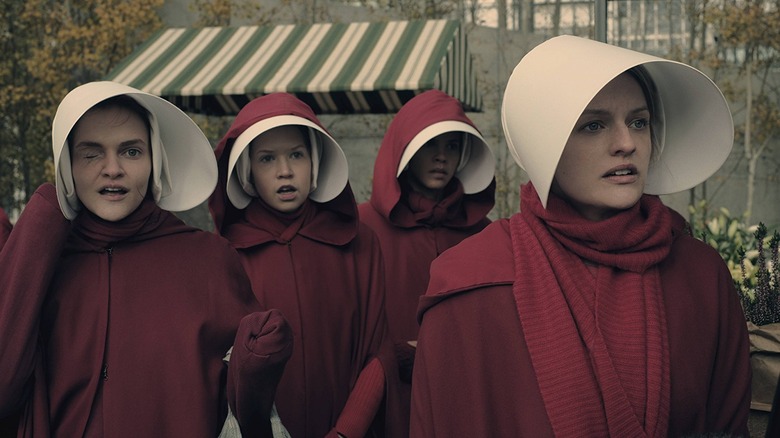 The Handmaid's Tale made a huge splash in its first season, racking up eight Emmys, two Golden Globe wins, and three Critics Choice awards. All eyes are on the harrowing Hulu series about a near-future dystopia where women have been stripped of all their rights. But the series has doubly daunting task for its second season. Not only will it have to maintain the momentum of its acclaimed first season, it will have to venture out beyond Margaret Atwood's masterful 1985 novel.
Showrunner Bruce Miller has near-complete creative freedom for The Handmaid's Tale season 2, which just debuted its first look. The first images from season 2 hint at what will happen to Elisabeth Moss' June, and where her rebellious actions have left her fellow Handmaids.
What was hinted at in Atwood's novel can now be fully realized in The Handmaid's Tale season 2. Entertainment Weekly has the first images from the Hulu series, which tease what happens to June, who at the end of season 1 was heading to an uncertain fate, pregnant and hauled away in a van that was controlled either by Gilead or its rebels. The rest of season 2 will focus on world-building, with input from Atwood, who serves as consulting producer on the series.
"Margaret and I had started to talk about the shape of season 2 halfway through the first," Miller told EW.
Miller says the season will also expand on the lives of refugees who escape Gilead (such as Samira Wiley's Moira) as well as the prisoners who have been sent to work at the polluted "Colonies" scattered throughout America. But one of the scenes that Miller is most excited to share is that of a handmaid's funeral in Gilead, which offers some of the most striking imagery from the series.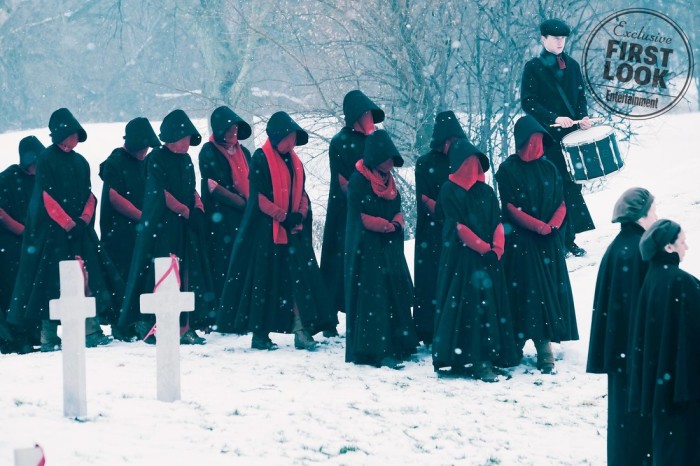 Miller said about the scene:
"Everything from the design of their costumes to the way they look is so chilling. These scenes that are so beautiful, while set in such a terrible place, provide the kind of contrast that makes me happy."
The first season was ambitious yet wildly uneven, but the series never lacked for striking images. (You can see the other stunning pictures at EW.) While the episodes that attempted to build the world beyond Atwood's novel often stumbled (I'm looking at you, the sluggish Luke-centric episode, "The Other Side"), it might benefit Miller to have no limitations as he pushes forward with season 2.
The Handmaid's Tale season 2 will debut on Hulu in April 2018.