'Saturday Night Live' Lands Jessica Chastain And A Fan Favorite Cast Member As January Hosts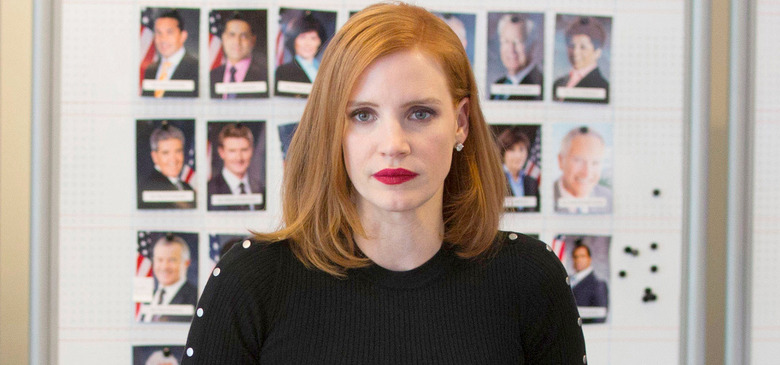 This weekend brings the first new Saturday Night Live of 2018 with Golden Globe winner Sam Rockwell making his hosting debut. The show must have known he would be raking in awards for his turn in Three Billboards Outside Ebbing, Missouri, because they booked him before he even started taking home trophies. Either that or they just realized that Sam Rockwell has needed to host for awhile.
Anyway, Sam Rockwell isn't the only talent coming to Studio 8H to host one of the first episodes of 2018. NBC has announced that Molly's Game star Jessica Chastain will be making her hosting debut, and a certain fan favorite cast member will be returning to host again.
First, here's a promo for the first of the Saturday Night Live January 2018 hosts, Sam Rockwell:
Sam Rockwell will be making his hosting debut with musical guest Halsey for this weekend's show on January 13. Rockwell is such a versatile actor with both strong dramatic and comedic chops, so seeing him take the stage at SNL should be extremely satisfying, as long as the writers give him some good sketches to work with. We'll have our review of the entire new episode up on Sunday morning, so be sure to check it out.
Following Sam Rockwell will be Jessica Chastain on January 20. This will also be the first time hosting for the Oscar-nominated actress, who has been getting plenty of buzz for her role in Molly's Game. Chastain hasn't strayed into comedy much, with the exception of her voice role in Madagascar 3: Europe's Most Wanted, so her hosting of SNL should be interesting. Some dramatic actors and actresses don't do to well in SNL's unique format, but hopefully she's up to the challenge. She'll be joined by musical guest Troye Sivan.
One host who probably won't be disappointing in January is Will Ferrell. The SNL alum will return to host for his fourth time on January 27. A cast member from 1995-2002, Ferrell is one of the most beloved SNL veterans and he has plenty of trademark characters he could bring back if he so wishes.
Strangely enough, Ferrell doesn't really have anything to promote right now. Daddy's Home 2 came out in November and it's basically out of theaters now. But it will be arriving on digital download on February 6 and Blu-ray and DVD on February 20, so that's likely what he'll be promoting. He'll be joined by musical guest Chris Stapleton.
We'll have reviews of all these episodes of Saturday Night Live the morning after they air, so stay tuned.