UPDATE: Mark Wahlberg Donating 'All The Money' Reshoots Paycheck To #TimesUp Legal Fund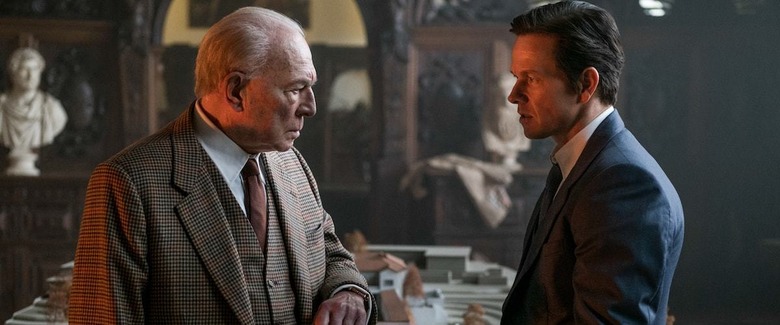 UPDATE: The controversy behind this pay discrepancy has come to an end with Mark Wahlberg doing the right thing. Read the full update at the end of our story.
As the pay gap debate continues to gain steam in the wake of news that Michelle Williams was paid less than 1% of Mark Wahlberg's paycheck for the All the Money in the World reshoots, more details emerge about Wahlberg's deal over his fee.
Wahlberg reportedly withheld approval of Christopher Plummer as the replacement for Kevin Spacey to get his $1.5 million fee, refusing to sign off on the casting unless he received additional payment. It looks like the only thing it would take to get Marky Mark to take time out of his busy pants-dropping schedule is some good old-fashioned co-star leveraging.
Insider sources told USA Today that Wahlberg had co-star approval in his contract, allowing Wahlberg's lawyer to formally veto Plummer's casting unless his demands for additional pay were met.
"What he said was, 'I will not approve Christopher Plummer unless you pay me.' And that's how he (expletive) them," a source close to the situation told USA Today.
Neither Wahlberg's entourage nor his talent agency, William Morris Endeavor, which negotiated his and Michelle Williams' contract, provided a comment on these new details.
This new development offers a new wrinkle to the previous reporting about this exorbitant pay gap situation. Williams was reportedly paid less than $1,000 for the reshoots. She and director Ridley Scott both publicly said that they would return for the reshoots "for free" in order to complete the nine-day reshoot session which would replace controversial star Kevin Spacey with Oscar winner Christopher Plummer. Williams received approximately $1,000 due to SAG per diem rules, but was reportedly uninformed that Wahlberg's team had negotiated for higher pay, despite the fact that she is represented by the same talent agency.
It's been alternately reported that neither Williams nor Wahlberg had reshoot clauses in their contracts, or that Williams's contract contained that clause while Wahlberg's didn't — the latter of which would allow Wahlberg to negotiate for a hefty fee. But the new USA Today story debunks both of those claims, reporting that both actors had reshoots included their contracts.
But whatever is in their contracts or not, Wahlberg's side of the story reeks of greedy, underhanded behavior. It's no wonder that he's remained silent over the issue of the reshoots, while Scott and Williams both took pay hits to make keep the budget for the reshoots around $10 million. But as Forbes' highest-paid actor of 2017, Wahlberg is the one who could have actually afforded taking a cut out of his paycheck.
UPDATE: Deadline reports Mark Wahlberg has released a statement following this controversy surrounding his All the Money in the World reshoots paycheck. Wahlberg says:
"Over the last few days my reshoot fee for All The Money in the World has become an important topic of conversation. I 100% support the fight for fair pay and I'm donating the $1.5 million to the Time's Up Legal Defense Fund in Michelle Williams' name."
In addition, the William Morris Endeavor agency that represents both Wahlberg and Williams has pledged to donate another $500,000 to the Time's up Legal Defense Fund. The agency said:
"The current conversation is a reminder that those of us in a poition of influence have a responsibility to challenge inequities, including the gender wage gap. In recognition of the pay discrepancy on All The Money In The World reshoots, WME is donating an additional $500,000 to the Time's Up Legal Defense Fund in Michelle Williams' name, following our $1 million pledge to the organization earlier this month. It's crucial that this conversation continues within our community and we are committed to being part of the solution."
This is about the best outcome we could ask for, but at the same time, the industry needs to make sure things like this don't happen anymore.