Duncan Jones' Netflix Movie 'Mute' Coming Next Month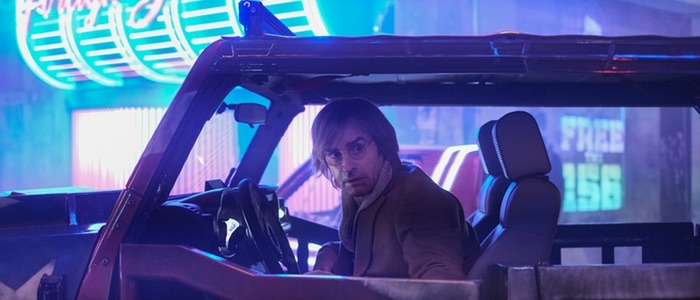 Mute, the long-awaited new film from Moon and Warcraft director Duncan Jones, is finally almost upon us. The filmmaker confirmed on Twitter that his science-fiction film will likely arrive on Netflix next month. More details on the Mute release date await you below.
We've all been waiting for Duncan Jones' Mute for a long time now. The Netflix movie released a first look a full year ago, but since then, word about Mute has been, well, muted. Well, it's time to celebrate: Mute is (likely) arriving on Netflix next month. Jones dropped the information on his Twitter account this week.
Next month.
Shhh! I'm not supposed to know yet!

— Duncan Jones (@ManMadeMoon) January 8, 2018
As you can see there, Jones wants everyone to keep this news on the down-low, so please don't tell anyone. The filmmaker also added this bit of info:
Waiting on frickin regional sub titles to be finished. All the tech checks on vfx now completed.

— Duncan Jones (@ManMadeMoon) January 7, 2018
Mute stars Alexander Skarsgård, Paul Rudd, and Justin Theroux, and has been described as both an homage to Ridley Scott's Blade Runner, and a "spiritual sequel" to Jones' film Moon. Jones also called it a "science fiction Casablanca," but I'd like to remind the filmmaker we already have one of those: it's called Barb Wire, and it stars Pamela Anderson.
In all seriousness, I can't wait to see this movie, and knowing that it's likely to arrive a month from now is very exciting. I'd imagine a trailer will be dropping very soon, if the release date is, indeed, next month. I've reached out to Netflix for confirmation, and will update when and if they reply.
When the project was first announced, Jones revealed he had been trying to get the film made for over a decade:
"I've been working towards making Mute for 12 years now. I cannot tell you how thrilled I am that we're finally going to shoot this utterly unique film...The fact that I get to make it with Alexander Skarsgard and Paul Rudd makes it all the more exciting! Mute is a film that will last. It is unlike any other science fiction being made today."
This is obviously a lot of hype to live up to, but I have a good feeling about Mute, and you should too. A reader on Twitter was nice enough to point out that the Netflix site also reveals the runtime for the film: 2 hours and 6 minutes.
Looks like we have a confirmed running time for MUTE as well. pic.twitter.com/A1FlPEawS6

— Sean (@SeanJ8) January 11, 2018
Here's the official Mute synopsis.
Set in the near-future, Leo (Alexander Skarsgård) is a bartender living in the pulsing city of Berlin. Because of a childhood accident, Leo lost the ability to speak and the only good thing in his life is his beautiful girlfriend Naadirah (Seyneb Saleh). When she vanishes without a trace, Leo's search for her takes him deep into the city's seedy underbelly. A pair of wise-cracking American surgeons (Paul Rudd and Justin Theroux) are the only recurring clue and Leo is forced to take on this teeming underworld in order to find his love.on Netflix.