The Animated 'Constantine' Will Be Darker Than the NBC Show [TCA 2018]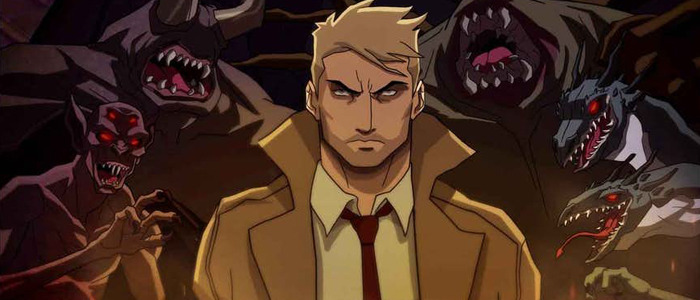 Warner Brothers digital studio Blue Ribbon Content held a panel for the Television Critics Association to introduce the press group to some of the original content they produce for digital platforms. The DC animated universe grows with Freedom Fighters: The Ray and a Constantine animated series, picking up where the short-lived NBC series left off.
"The Constantine that we're doing, it's Constantine," Peter Girardi, EVP of Blue Ribbon Content said. "If you're familiar with the character Constantine from the Vertigo comic, it's dark, darker than the show."
Matt Ryan returns as the voice of John Constantine, from Vertigo's Hellblazer comics. The 2014 series was rated TV-14. Girardi suggests parents not let younger children watch.
"Certainly for Constantine it should be [older]," Girardi said. "Responsible parents."
Constantine and The Ray follow Blue Ribbon Content's previous DC animated series Vixen. Voice actor Megalyn E.K. ended up playing Vixen on an episode of Arrow. Ryan also appeared in an Arrow episode after Constantine was cancelled. Future crossovers are up in the air.
"It's yet to be determined," Girardi said. "The first one we did was Vixen. Vixen started out as animated. I think we're all so happy with it, it did migrate into the Arrowverse, but it started as animated first. Since then, we've kind of figured out a little more of a strategy around it, where we work very closely with Greg [Berlanti] and Marc Guggenheim, the teams there to figure out hey, what characters are going to work? What's in your future plans? What can we do?"
Blue Ribbon is also striving to maintain high standards for the animated shows it produces.
"Also with animation, the first thing you ask is why does this need to be animated?" Girardi said. "So we try to up the scale and the consequence and the VFX and the set pieces in animation. We call it in the world of animation pencil power. It's just pencil power. It's people drawing."
Some of Blue Ribbon's other series, like the Scooby-Doo live-action spinoff Daphne and Velma, will ultimately have a home video release as a feature film. The Vixen animated series did as well, so you may be able to watch Constantine and The Ray on DVD eventually.
"Some of the projects we know will have a life, like we mentioned Vixen, we mentioned some of these animated projects," Girardi said. "They do have a life with home entertainment internationally and places like that."
Freedom Fighters: The Ray will debut first on CW Seed on December 8. Constantine will debut this year as well.