Cool Stuff: This 'Indiana Jones' Trilogy Print By Gabz Belongs In A Museum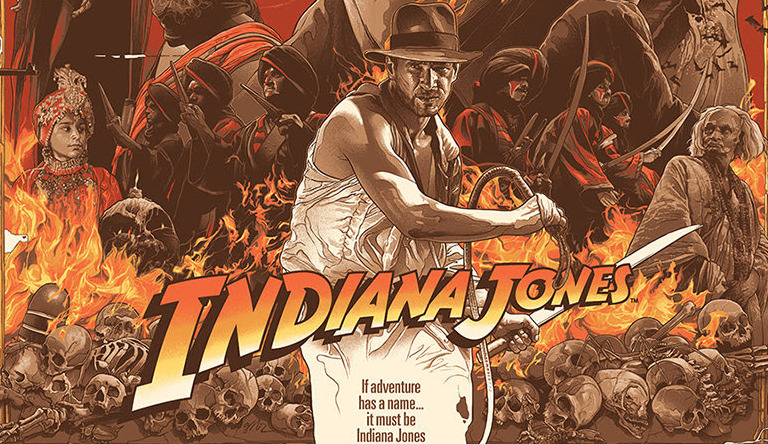 The Indiana Jones trilogy is easily one of the best film franchises of all time. Yes, we're only talking about the trilogy, because as long as we don't acknowledge that there may or may not be a fourth movie, then it can never find us. And that's exactly why a new print coming from Bottleneck Gallery does the exact same thing.
Gabz, the same artist who delivered an amazing Star Wars trilogy print back in November of 2015, has given the same treatment to the Indiana Jones trilogy. Raiders of the Lost Ark, Temple of Doom and The Last Crusade are all featured with no crystal skulls to be found (okay, there might be one if you look really hard). Check out the Gabz Indiana Jones trilogy print below and find out how you can get one.
Here's the Indiana Jones trilogy print by Gabz with the regular version on top and the variant on the bottom:
If you're in love with this print as much as we are, we have good news. The regular version will be a hand-numbered timed edition you can purchase starting today, January 12, at 12pm Eastern time, and it will remain on sale through January 14 at 11:59pm Eastern time. However many prints are ordered during those two days will be the number that are printed. Each will be a hand-numbered 36x24 screen print with metallic inks that will cost you $50.
For those who want something a little more limited, the variant (on sale at the same time) is also a a hand-numbered 36x24 screen print with metallic inks, but there will only be 250 available. Each of the variant prints will cost $65 and will be available as long as supplies last.
No matter which one you get, these prints are officially licensed by Acme Archives and Lucasfilm, and they'll ship in six to eight weeks. Head over to the Bottleneck Gallery website to pick one up today.