'Solo: A Star Wars Story' Trailer: Meet The Young Han Solo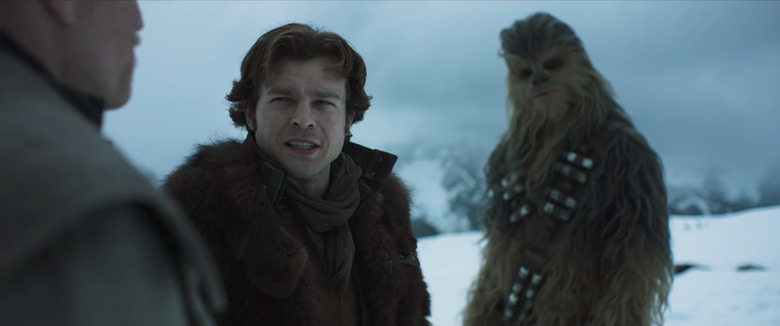 The Solo: A Star Wars Story trailer is here at last, and not a moment too soon. The delayed, troubled production will finally show audience the fruits of its labor later this year, and the new trailer for the highly-anticipated Star Wars spin-off film gives us the first real footage from the film. Watch the Solo trailer below.
It's been a long time coming, but it's here. The eagerly anticipated trailer for Solo: A Star Wars Story just found its way online after months and months of wild speculation. The Ron Howard-directed Star Wars Anthology film takes viewers back in time to the early days of smuggler Han Solo, played here by Hail Caesar! breakout Alden Ehrenreich, stepping into Harrison Ford's vest. Watch the trailer below.
Watch the Solo Trailer
Solo has not had the easiest road to the big screen. The film was first announced back in 2013, and The Lego Movie and 21 Jump Street helmers Phil Lord and Christopher Miller were hired to direct the film. Excitement was high, and then everything went south. Lord and Miller were fired from the production, primarily due to clashes with Lucasfilm President Kathleen Kennedy – the vision Lord and Miller had for the movie apparently did not line-up with what Lucasfilm wanted.
After Lord and Miller got the axe, Ron Howard was brought in to both finish the film and handle extensive reshoots. Rumors vary, but word had it that Lord and Miller were almost done shooting when they were let go. Yet rather than have Howard finish up a few remaining scenes, the director went back and reshot a huge chunk of the production. Just how much Howard reshot, and how much of Lord and Miller's work is still in the film, remains to be seen. One report says that 80% of the film was reshot by Howard, and co-star Paul Bettany said, "I think [Howard] went in and he was like a laser, working out what needed to be done when he looked at the footage. And then, as things moved on, everybody felt so secure with him. And they gave him more. He reshot a lot more than was originally intended."
Yet co-star Thandie Newton contradicted this a bit, claiming that a lot of Lord and Miller's original scenes remain. The actress said, "[Lord and Miller's] work is everywhere in it. Ninety percent of my stuff is with them." We'll likely know the full-story some day, but for now, we have the film as it is to look forward to. In addition to Ehrenreich as Han Solo, Solo also stars Donald Glover as cape enthusiast Lando Calrissian. The rest of the cast is made up of Woody Harrelson, Emilia Clarke, Thandie Newton, Phoebe Waller-Bridge, Joonas Suotamo and Paul Bettany.
Oh, and here are some new character posters that look unlike any official posters we've seen from Star Wars before:
Solo: A Star Wars Story opens May 25, 2018.