'Silicon Valley' Season 5 Trailer: Anxiety, Vomit, And A Whole New Internet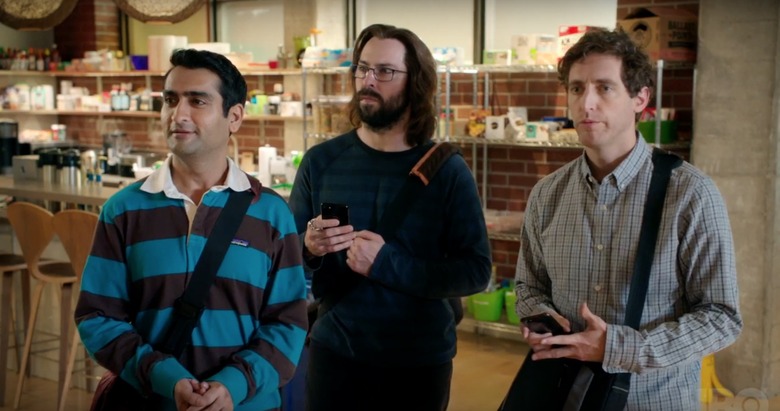 The Silicon Valley season 5 trailer opens with Richard Hendricks (the invaluable Thomas Middleditch) suffering an anxiety attack and vomiting in front of a large group of people. Because even when things change in HBO's uproarious tech industry comedy, some things are forever.
That seems to be the major theme running through this brief trailer: Pied Piper has once again rebounded, but the people running it are as clueless and reckless as ever.
Silicon Valley Season 5 Trailer
The previous season of Silicon Valley was rightfully criticized for treading water. After several years that blended thrilling storytelling momentum with big, raunchy, smart laughs, season 4 found itself focusing mostly on the latter, running the Pied Piper crew up against problems that often felt far too familiar. It was still a very good show (possible the funniest on TV!), but the stagnation was clear and obvious. The show wouldn't allow these knuckleheads to succeed too much, countering every step forward with a stumble down a flight of stairs.
Of course, that changed at the end of season 4, when Richard's plan to remake the internet as we know it actually...well, looked like it was going to work. And then he literally challenged his greatest corporate enemy to his face. And that brings us to season 5, with the crew finding themselves in charge of an entire office full of people, which means they now have dozens of new people they can let down and disappoint. Progress!
Anyway, hopefully season 5 can reach the heights of season 3, which blended the laughs with intense plotting so tight that it could make Game of Thrones fans squeal. At the very least, we're going to see more of Middleditch, Kumail Nanjiani, Martin Starr, Amanda Crew, Zach Woods, Matt Ross, and Suzanne Cryer, one of the strongest comedy ensembles on the air right now. And is it too much to ask for more of Chris Diamantopoulos' Russ Hanneman, the series' profane and grotesque secret weapon?
(As a sidenote, T.J. Miller left the show last season, before allegations of sexual assault against the actor were made public. While he is gone, he remains the elephant in the room, especially since his character's home remains a key location in the series going forward.)
Silicon Valley returns on March 25, 2018.