'Krypton' Promises Doomsday, The Phantom Zone And Time Travel [TCA 2018]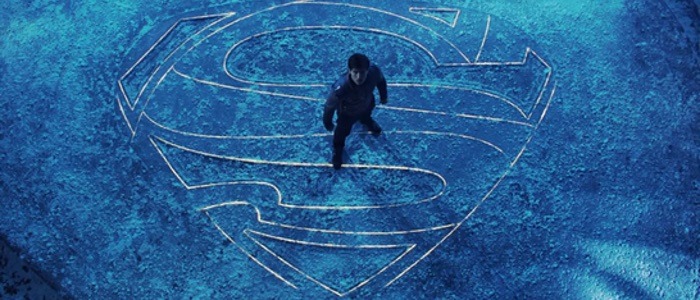 Syfy presented a panel for Krypton to the Television Critics Association. Creator David S. Goyer, showrunner Cameron Welsh, DC President Geoff Johns and actor Cameron Cuffe discussed the show, which is set 200 years before Superman's birth and the destruction of Planet Krypton. Johns said this setting would allow for Doomsday and other cosmic DC characters to appear on the show.
"We get to do our own version of Doomsday untethered to anything else," Johns said.
Goyer added, "He emerged on Krypton long before he came to Earth. The Phantom Zone figures in, so we can deal with other times and places eventually. It's not just going to be set on Krypton."
Superman villain Braniac has already been shown in previews and Johns mentioned more DC characters. "We were talking about the Omega Men earlier," Johns said. "Any of these characters can show up."
Cuffe plays Seg-El, Kal-El's grandfather. He meets Adam Strange (Shaun Sipos), who has traveled from the present to help ensure that Krypton survives long enough for Superman to be born. The time travel plot has Goyer and Johns suggesting the future of Planet Krypton can be changed.
"Since you can tell time travel is involved, what that means is history can be changed," Goyer said. "What happens in this show could be very different than the backstory that most people know. It will affect what's happening today. Because there's a time travel element, we have a tremendous amount of free rein. Not that much is known about Kryptonian society in the comic books."
Adam Strange is not DC's only time traveler, so Johns explained why he was the right character for Krypton.
"One of the great things about him is his core story. On Earth, he blends in," Johns said. "He's an average man. When he travels via zeta beam, he becomes this hero. That conceit and the zeta beam technology plays into why Adam Strane is able to travel from Earth present day to Krypton. He's an unlikely hero."
Goyer added, "Also, he doesn't just travel through time, but he's also noted in the comics for having adventures in other planets, which we're interested in exploring."
While Krypton is taking a deep dive into Kryptonian society and deep cut DC Comics characters, Welsh emphasizes that the show is accessible for newbies, too.
"It's the best of both worlds," Welsh said. "It's familiar. People know who Superman is. That's really all you need. Our approach, 200 years before Superman is birthed, that's all untold story. That's all fertile ground for us to play in. It's he best of both worlds, to have a toy box of the best DC characters and get to use them in a playground that hasn't been used before."
The Kryptonian symbol for hope appears on Krypton. At least, it means hope to fans of Superman and Supergirl. It did not mean that in the early days of Krypton.
"The S means so much to so many across the world," Johns said. "Krypton explores how that S really came to its meaning. Where did that meaning come from? We start in a place where it's a symbol of shame. The House of El is no more. Adam Strange, knowing what that symbol means to us, saying it will one day mean something again, is the core to us."
As Seg-El, it's Cuffe's job to play the redemption of the House of El. "That legacy feels very far away from him when we first meet him on the show," Cuffe said.
Krypton has been in development since 2016. Goyer explained the delay.
"When we first brought the concept to Geoff and onto the people at Warner Brothers, we deliberately developed this as a serialized show," Goyer said. "I said from the get-go I wanted to shoot in the UK. We have a significant visual FX budget for a show. Frankly, the post-production period is almost double that of your average show. It just takes a long, long, time."
Krypton is separate from the other DC shows and movies, and Goyer says they have a seven or eight season plan if the show proves successful. Krypton premieres on March 21, 2018 on Syfy.