Could A Rey And Poe Romance Happen In 'Star Wars: Episode 9'? Daisy Ridley Hopes Not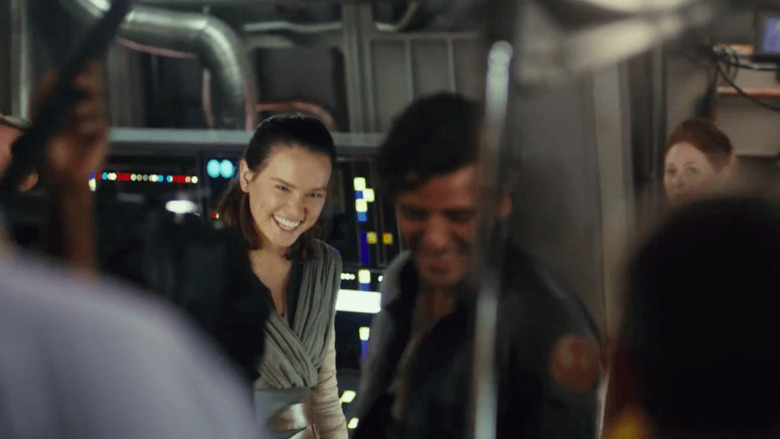 There are plenty of delusional Star Wars fans out there, and I like to think that I'm not one of them. But — and don't judge me — I kind of ship Rey and Poe. Yes, I know they shared barely more than 10 seconds together in Star Wars: The Last Jedi! And yes, those 10 seconds basically consisted of them introducing themselves! But gosh darn it, if they don't look cute together.
And I'm not the only one who read way too deeply into their brief but flirty exchange. There's a whole set of delusional Star Wars fans who are secretly hoping for a Rey and Poe romance and their clamoring for a love story has finally made its way to Star Wars: The Last Jedi star Daisy Ridley. But I'm sorry DameRey shippers, she won't give the answer you were looking for.
During a Last Jedi promotional event in China, Ridley was asked whether she thought romance was in the future for Rey and Poe now that her other potential interests, Kylo Ren (Adam Driver) and Finn (John Boyega), were off destroying the galaxy or caring for a new loved one (Kelly Marie Tran's Rose), respectively. The video was shared on Reddit, where Ridley responded (via Star Wars Underworld):
"It's wonderful to have relationships that are not romantic.  I don't think in films you always need a romantic relationship.  I think friend relationships can be romantic in their gestures and their intimacy.  Hopefully, if Rey and Poe get to have some scenes together, there will be intimacy but, for me, it doesn't have to be romantic love."
It's a very diplomatic answer, but it boils down to Ridley saying, God I hope not. As the female lead of the movie, it's understandably frustrating for her to be barraged with questions about love triangles and romances — especially for a sequel that barely has a script yet. Why hasn't anyone asked Oscar Isaac what his thoughts are on a Rey and Poe romance? (Plus, we've written before about how the women of Star Wars don't need romance.)
Speaking of Isaac, it may be entirely his fault that theories of this romance have sprung up at all. The dashing and charismatic actor would have chemistry with a lawn chair. Every one of his interactions with characters in Last Jedi, from Admiral Holdo (Laura Dern), to Leia (Carrie Fisher), to Finn, and even BB-8, have been bursting to the seem with sparks. Heck, he was essentially forgiven for his mutiny against Holdo because she "liked him." Place him and his stunning smile in front of Rey, and it's no wonder she blushed when she introduced who she was and he responded admiringly with, "I know." (My delusional self was making notes about the parallels between Han and Leia's iconic "I know" at this point.)
Romance has often been the weak spots of the Star Wars franchise anyhow, but it would be remiss for Star Wars: Episode 9 director J.J. Abrams to take advantage of his talented cast of actors who all somehow share chemistry with each other. But maybe instead of making it a Poe and Rey romance, just go back to what we know is the fated relationship: Poe and Finn.