'Westworld' Season 2 Will Feature The Return Of Jimmi Simpson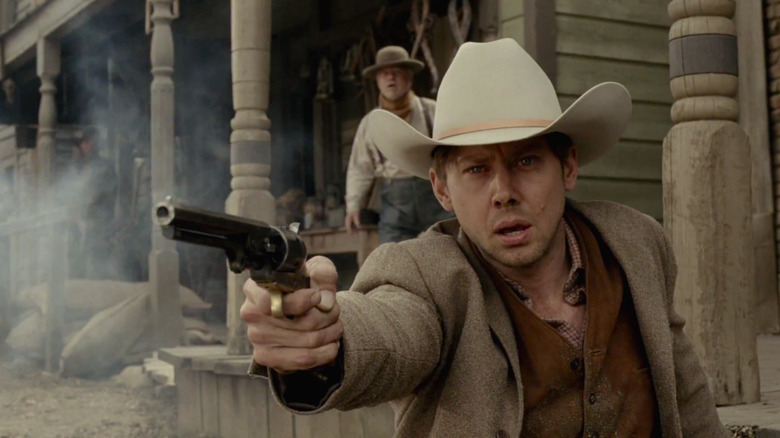 Normally, the news that a key actor from the first season of a hit TV show is returning for the sophomore season can be filed under the "Duh" category of entertainment news. However, this is not the case with Jimmi Simpson returning for Westworld season 2. The actor recently confirmed that he'll be around in the second season of HBO's ambitious science fiction series, but in order to properly discuss what this means, we'll have to delve into some serious spoilers from season 1.
So here you go. This is your spoiler warning.
While Simpson was supposed to be talking about his new show Unsolved: The Murders of Tupac and the Notorious B.I.G. during a recent Television Critics Association panel, he naturally found himself fielding Westworld questions. And when he was asked if he was going to be in season 2 (via The Wrap), he replied in the affirmative before realizing he may have said too much:
I thought it was already a thing. But now that you're asking me, I'm gonna shut up.
When pressed further, Simpson didn't shut up and admitted "I mean, yeah, I pop in." So there you have it. His William, a character whose arc seemed pretty much over after the first 10 episodes, will be returning to Westworld.
Of course, William was always going to return to Westworld. After all, the first season finale confirmed that Simpson's wide-eyed first-time guest was a young version of the Man in Black, a sadistic regular at the western-themed, robot-populated theme park. All of Simpson's scenes were flashbacks to decades in the past, with Ed Harris playing the older and significantly crueler William in the "present day" (the show is set in the distant future).
And while season 1 concluded with Evan Rachel Wood's Dolores leading a robot uprising and and beginning the merciless slaughter of Westworld visitors, the season 2 trailer revealed that William survived the wounds sustained in his final scene. So William is back in Ed Harris form.
So how does Simpson fit into this? The obvious answer is that we may get to see more flashbacks. After all, it's revealed that William is a wealthy and powerful man with a huge stage in Delos, the company behind Westworld. With season 2 focusing on the battle between robots and humans to control the park, flashbacks to Westworld's earlier days can prove crucial, with Simpson's familiar face being a possible tour guide through decades past. After season 1 turned the show's timeline into a puzzle worth studying and exploring, it's easy to imagine season 2 also leaping around the years. Plus, this certainly aligns with Simpson saying he "pops" in, which implies a cameo rather than a full-on role.
However, the possibilities are endless. Season 1 also introduced us to Jeffrey Wright's Bernard Lowe, who was actually a robotic recreation of the park's co-founder, Arnold. With the precedent set for robots built to resemble existing people, maybe Simpson is playing a robot version of William, a choice that would certainly rattle Dolores, who watched this good man transform into a monster.
We'll find out for sure when Westworld returns to HBO this spring.