'The Further Adventures Of Walt's Frozen Head': Another Movie Filmed On Disney Property Without Disney Approval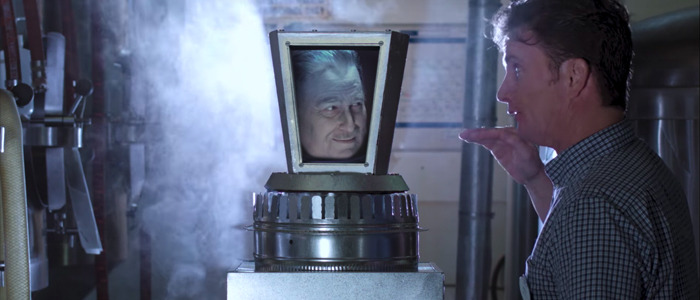 In 2013, a low-budget independent movie called Escape From Tomorrow made headlines as the first feature film to shoot at Walt Disney World without getting the proper approval from Disney beforehand. You can read Peter Sciretta's full review here, but it's a trippy, disorienting, disturbing piece of experimental filmmaking, showing a dark side to the "Happiest Place on Earth" that a family-friendly company like The Mouse House couldn't have been pleased about (even though they ultimately didn't sue to stop the movie's limited release).
Now comes The Further Adventures of Walt's Frozen Head, another indie movie shot "illegally" inside Disney World without permission, and this one actually features Walt himself as a character – or at least his floating and talking head, anyway. Watch the trailer below.
The Further Adventures of Walt's Frozen Head trailer
I'm sure you've heard the urban legend of how Walt Disney had his head cryogenically frozen, but although Disney was interested in cryogenics, he never actually went as far as to sign up for the process. (You can read more about that here.)
This Kickstarter-backed film takes that urban legend and runs with it. Writer/director Benjamin Lancaster (Lightning in a Bottle) has crafted a story in which a low-level Disney World employee named Peter (Daniel Cooksley) ends up discovering Walt's frozen head (Ron Schneider) and giving him a tour of the park in exchange for a nice promotion. The film was shot on Disney property and elsewhere in the Orlando area, and joins movies like Escape From Tomorrow, 2010's Exit Through the Gift Shop, and a 2012 short called Missing in the Mansion as the few high-profile enterprises that managed to pull off the feat of fooling Disney's vigilant security. (Hat tip to InsideTheMagic for letting us know about this one.)
Warning: spoilers for Sean Baker's The Florida Project ahead.
Of course, Sean Baker's The Florida Project (which debuted last year) also featured footage that was captured "clandestinely," as he calls it, on Disney property. "It's not against the law, it's just against the rules, and sometimes you have to break rules to make a film," Baker told THR. Looks like Lancaster shared the same sentiment; his film has been in post-production for over a year, so I think he beat Baker to the punch.
The Further Adventures of Walt's Frozen Head is a quirky comedy about the unlikely friendship between the frozen head of Walt and Peter, a Magic Kingdom Cast Member. During his yearly dethaw to oversee the direction of his company and guard his creative legacy, Walt demands to be allowed up to see his final dream, Walt Disney World. When management scoffs, he recruits Peter to kidnap him for a day in the Magic Kingdom.
The Further Adventures of Walt's Frozen Head is hoping to make its debut on the film festival circuit sometime in 2018. You can find out more info about the film at its official website.