'Black Panther' Director Ryan Coogler Talks James Bond Influences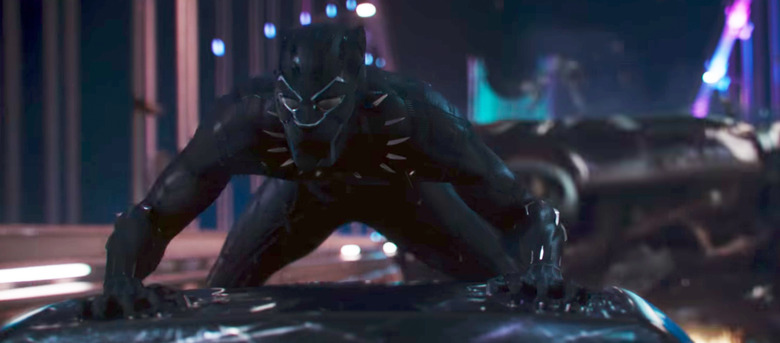 Black Panther is primed to rule 2018. The Marvel Studios movie directed by Ryan Coogler is one of the most anticipated movies of the year, and with tickets going officially going on sale yesterday, the frenzy over the superpowered king of Wakanda is just beginning.
It's clear that Black Panther is unlike any movie we've seen before: the lush Afro-futurism, the majority-black cast, the epic political intrigue. But no movie is made in a void, and Coogler is readily sharing the movies that influenced Black Panther. And some of them may surprise you.
Marvel movies are at their best when they take a genre and filter it through a comic book movie lens. Captain America: The Winter Soldier was a '70s conspiracy thriller. Ant-Man was a heist film. Guardians of the Galaxy was a satirical space opera. Coogler continues this Marvel tradition with Black Panther, though it stands apart, refusing to be defined by any one genre.
"I think it's a bit of an espionage thriller. I think it's a little bit of a family drama," Coogler said in an interview with Fandango. "He's dealing with the loss of his father, so similar to any film that deals with royalty, you have a family element and you have a political side, too. It works as a political drama as well."
Espionage movie? Family drama? Political intrigue? That sounds like a whole lot of story to fit into one movie. But Coogler, who quickly shot up the Hollywood ranks as one of the most promising new directors thanks to his powerful and empowering films Fruitvale Station and Creed )both starring Coogler's muse Michael B. Jordan, who stars as the villainous Killmonger in Black Panther) can pull it off.
Though the elements sound discordant with each other, they're tied together by an overarching crime story. The movie has been called a cross between the James Bond movies and The Godfather, to which Coogler eagerly agreed, saying, "Definitely with James Bond. I think similar to Captain America: The Winter Soldier, we're definitely influenced by the films of the '70s and influenced by crime fiction." He continued:
For me, I try to pull from a wide variety of films. I love watching movies, man. I've been a fan of watching movies way before I even knew I would ever make them. I'm definitely from the school of studying films. My favorite film is a film called A Prophet, a French film that was released almost a decade ago now, which seems a bit crazy. Any time I'm making a movie, I'm always leaning on inspiration from that one.
A Prophet deals with secret societies and cultural ties, so that was a big influence [on Black Panther]. I also watched a lot of Coppola's work from the '70s. We were looking at all of that stuff and also watched a lot of the James Bond films, but not the new ones. I wanted to watch the ones that were made in the '60s and '70s. I watched Goldfinger for the first time, and I just thought it was really interesting in terms of how James Bond was handy.
So our dreams of a black James Bond may die a little every time Idris Elba denies the rumors, but it seems like Coogler has cooked up the closest thing we'll get to a black James Bond in Chadwick Boseman's T'Challa. That's more than enough reason for me to see it.
Black Panther is set to hit theaters on February 16, 2018.