'The Office' Reboot Is "a Great Idea" Says Jenna Fischer [TCA 2018]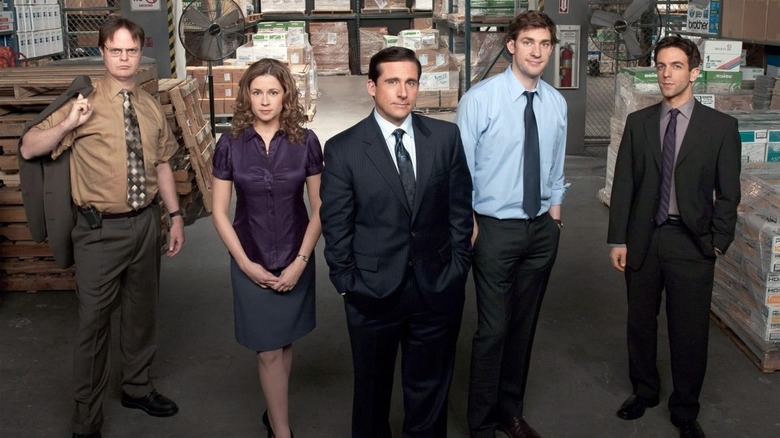 With shows like Will & Grace, Roseanne and Full House being rebooted as new series with original cast members, there has been talk of The Office returning. Jenna Fischer, who played Pam Beesly on the NBC show, was on a Television Critics Association panel for her new ABC show Splitting Up Together. After the panel, she told reporters she endorsed an Office reboot.
"I think it's a great idea," Fischer said. "I would be honored to come back in any way that I'm able to. I loved playing that character. As long as Greg Daniels is the person in charge and the visionary behind it, then I would absolutely be up for it. We just have to get Mindy [Kaling] to write some episodes, BJ Novak, Gene Stupnitsky and Lee Eisenberg, Mike Schur. That show was so great because of the talent involved in the show, behind the scenes, not just on the screen."
Fischer was clear that she knows nothing about any plans, and her involvement would entirely depend on NBC and ABC working out her commitments. However, she is confident that if it happened, The Office could be as successful now as it was when it was rebooted from Ricky Gervais' original British series.
"To be fair, nobody thought that the American version could ever do what it did," Fischer said. "Maybe it's possible to defy the odds again. There was a slight shift in tone and that was that Ricky Gervais and Stephen Merchant advised us while we were making the pilot. They gave us a lot of advice about how to Americanize it. Greg was very, very good at holding onto the beauty and the reality that the British version gave us but also creating something that could go on for years and years and years and many more episodes."
All this talk about The Office did give Fischer a chance to reminisce about her memories of the show, which ran for nine seasons.
"Just sitting at the desk with all of those funny people around me, being very, very cold because the set was very, very cold," Fischer said. "I'm always very cold."
Splitting Up Together premieres on ABC this year.