'Deadpool 2' Will Not Recast T.J. Miller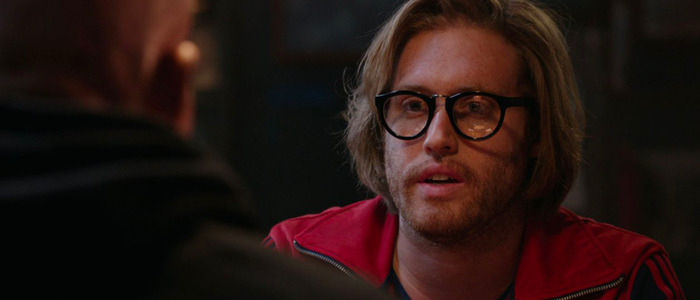 Ridley Scott set a precedent when he worked quickly to remove Kevin Spacey from All the Money in the World following sexual misconduct accusations against the actor – but don't expect the Deadpool 2 filmmakers to follow in Scott's footsteps. Weeks after a story broke accusing Untitled Deadpool Sequel co-star T.J. Miller of sexual assault, the film's producer confirmed that since Deadpool 2 is in its final editing stage, Miller's performance would likely remain intact.
In December, The Daily Beast published an explosive story in which an anonymous woman accused actor T.J. Miller of sexual assault. It was the latest allegation against a male celebrity in a sweeping tide of stories involving sexual assaults in Hollywood, and beyond. Miller is involved with two high-profile 2018 releases: Deadpool 2 and Steven Spielberg's Ready Player One. How Ready Player One plans to deal with the allegations against Miller remains to be seen, but Deadpool 2 producer Lauren Shuler Donner has revealed that Miller's work in the comic book sequel will likely remain as-is. "We're in the final editing," Donner told Rotten Tomatoes when asked if the film would replace Miller with reshoots. "I don't think so."
At the end of 2017, Ridley Scott made movie history when he decided to quickly replace actor Kevin Spacey with Christopher Plummer in All the Money in the World. The decision came on the heels of sexual assault allegations against Spacey – allegations that resulted in the actor being suspended from the Netflix show House of Cards, among other things. Rather than potentially damage the film with Spacey's presence, Scott acted quickly and reshot all of the actor's scenes in 19 days with Christopher Plummer. Plummer's role was surprisingly substantial in the final film, and Scott was able to complete the reshoots and release the film in less time than the impending Deadpool 2 June release date.
In other words, it seems conceivable that if everyone involved with Deadpool 2 wanted to, they could realistically reshoot Miller's scenes, especially since it's likely that Miller has a less significant role in the film than Plummer did in All the Money. Of course, Scott's reshoots weren't cheap, and the Deadpool 2 filmmakers could always approach the Miller issue another way (if they feel they must) – by editing his part down (or cutting it completely) for the theatrical release.
Scott's All the Money in the World reshoot decision was unprecedented at the time, but now that it's been done, the move feels like something of a line in the sand for future filmmakers. Yes, reshoots may not be easy or cheap, but when the actor in question is so particularly toxic, might they not be worth it? As Scott said when questioned about the reshoots, "You can sit there and let something kill you, or you can take action...I took action."
The question one has to ask now is, how soon before Steven Spielberg and the producers of Ready Player One address this very same issue?
Deadpool 2 opens on June 1, 2018.