Drew Goddard's Mysterious New Movie Adds Russell Crowe And Dakota Johnson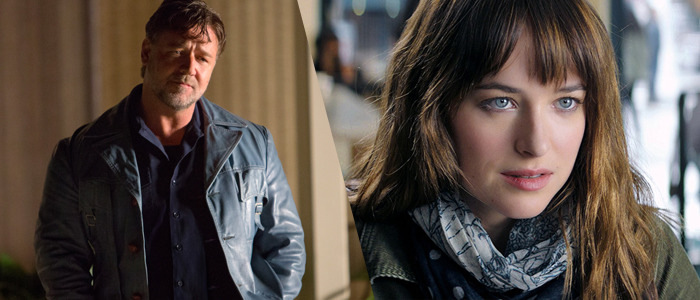 It's been almost six years since filmmaker Drew Goddard made his directorial debut with the unexpectedly brilliant horror comedy The Cabin in the Woods, and while he's worked consistently since then as a writer, he has yet to step behind the camera to direct another feature film. That changes this year with Bad Times at the El Royale, a mysterious thriller that stars Chris Hemsworth and Jeff Bridges.
As if that cast weren't already intriguing enough, Goddard has just added two more top notch actors to his new film's roster. Learn about the newest additions to the Bad Times at the El Royale cast below.
Speaking with CinemaBlend about his ridiculously-titled new movie 12 Strong: The Declassified True Story of the Horse Soldiers, Chris Hemsworth revealed that Oscar winner Russell Crowe (Gladiator, The Nice Guys) has joined him and Bridges in Bad Times at the El Royale. Meanwhile, The Tracking Board reports that Dakota Johnson, the star of the Fifty Shades movies and the upcoming remake of Suspiria, has also come on board the project.
The film is largely shrouded in mystery, so we aren't sure who any of these actors will be playing yet. All we know about the film is what we learned as soon as the film was announced last summer: Goddard's script is set in the 1960s at a crappy hotel near Lake Tahoe, and that a group of shady characters with mysterious motivations violently collide there. In the CinemaBlend interview, Hemsworth also referred to the movie as a "60s noir thriller," which is the first time I've heard a noir description associated with this film – that makes me even more excited about what this could end up being.
Goddard has stayed very busy since directing The Cabin in the Woods. He helped rewrite the ending of World War Z, worked on the first season of Netflix's Daredevil, nearly directed a Sinister Six movie for Sony, and has directed a few episodes of the delightful NBC comedy The Good Place. He's lined up a couple more feature directing gigs for the future – he'll helm an X-Force movie and will also direct a film based on the children's fantasy novel Nevermoor – but in the meantime, he'll be putting all of his efforts into a pretty short production and post-production schedule for Bad Times at the El Royale, which shoots from March to April and has a release date of October 5, 2018. That rivals Steven Spielberg's The Post in terms of quick turnaround times, but since Bad Times is supposed to be a "contained thriller," hopefully it'll be a relatively easy shoot and he'll be able to hit that release date without any issues.