'Atlanta' Season 2 Trailer: It's Time For 'Robbin' Season'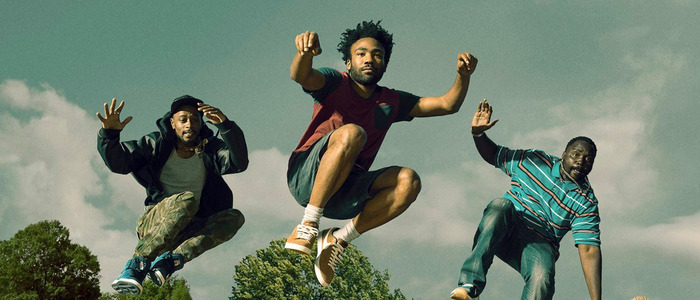 An enigmatic new teaser trailer for Atlanta season 2 just dropped to hold you over until the show's return. Donald Glover's hit FX series returns in March, and while this Atlanta season 2 trailer is short on much footage, its big on atmosphere, hinting at yet another captivating season. In addition to that, Atlanta season 2 now has a new subtitle: Robbin' Season.
The long wait for Atlanta fans is almost over. Season 1 of Donald Glover's hit, award-winning series aired in 2016, but season 2 was delayed until 2018. In the world of modern television, when everyone wants to stream and binge everything at once, that's a lifetime. Everyone can breathe a sigh of relief, though, because in two months, Atlanta will return. Ahead of its March air date, a new Atlanta season 2 trailer reveals some mysterious footage, as well as an official season subtitle.
Atlanta Season 2 trailer  
Accompanied only with the vague synopsis that "two cousins work through the Atlanta music scene in order to better their lives and the lives of their families," the Atlanta season 2 trailer also reveals the show will now be called Atlanta Robbin' Season. Speaking with Billboard, Glover explained the reason behind the season subtitle: the time of year between Christmas and New Years when people have packages stolen from their front steps. ""People have to get Christmas gifts so it's a time where robbery will go. You might get your package stolen from the front porch," Glove said. "It's just a very tense and desperate time." Glover then added: "Our characters are going through insane, desperate transitions so Robbin' Season is kind of a metaphor for all of our characters."
Glover also said that when it came to creating Atlanta season 2, he drew on an unexpected source: Tiny Toon Adventures:
"We just went into this like, 'Why are we going to do season 2? Everybody does season 2!' And in the writers room, we talked a lot about How I Spent My Summer Vacation by Tiny Toons — which was a show we all really liked — and that was kind of the inspiration for season 2."
Stephen Glover, Donald's brother and a writer on Atlanta, elaborates: "They would play them during the summer together, and we kind of took that idea — a whole story but being told in a bunch of different parts." Donald Glover then added: "You enjoy them more when they're all together but you can also enjoy them in little bits."Atlanta season 2, or Atlanta Robbin' Season, if you will, starring Donald Glover, Zazie Beetz, Lakeith Stanfield and Brian Tyree Henry, premiers March 1, 2018 on FX.