'Billions' Season 3 Trailer Raises The Stakes, 'Homeland' Season 7 Featurette Offers A Twisted Reflection Of Society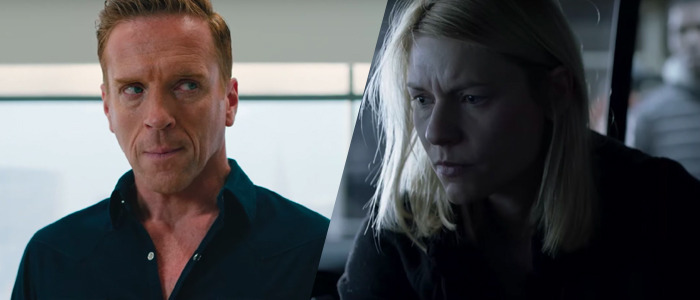 If you've been wondering what Paul Giamatti has been up to lately (since that's clearly a thought that crosses everyone's minds every once in a while), the answer is apparently, "Making multiple seasons of the Showtime drama Billions." The show's third season is about to debut, and the network has released a new trailer teasing the high stakes scheming between Giamatti's character and his rival, who's played by Damian Lewis.
And while they're at it, Showtime has also released a new featurette for the seventh season of Homeland, which features stars Claire Danes, Mandy Patinkin, and more talking about how the new season "seems to have become more of a Polaroid of the world we're living in." Watch both videos below.
Billions season 3 trailer
I subscribed to Showtime last year solely so I could watch Twin Peaks: The Return and then immediately unsubscribed, so I didn't have time to catch up with Billions, a show that has somehow been running for two years already. (The insanity of last year truly destroyed my concept of time.) But for those who are all caught up and on the edge of your seats waiting to find out what happens in season three, here's the official synopsis:
Season three of Billions finds Chuck Rhoades (Giamatti) and Bobby Axelrod (Lewis) in a world that has shifted on its axis. Both men are still determined to destroy the other, but must also battle for their own survival amid new forces and powerful enemies. Wendy Rhoades (Maggie Siff) Chuck's wife and Axe's performance coach, is all in for both of them, an uneasy and dangerous position for her, and one that ultimately puts her to a decision that could alter the direction of her life irrevocably. Money, power, justice and revenge are all on the line for each of these characters as well as for the rest of the stellar cast, including Malin Akerman, Toby Leonard Moore, David Costabile, Condola Rashad, Asia Kate Dillon and Jeffrey DeMunn.
Billions returns to Showtime on Sunday, March 25, 2018 at 10pm.
Homeland season 7 featurette
I bailed on Homeland after season 3 in 2013, so the last time I was watching, CIA wunderkind Carrie Mathison (Danes) was pregnant. How did the show handle that pregnancy? I'll never know! But now, years later, Carrie is in a new heap of trouble and seems to be going head to head against the President of the United States (Elizabeth Marvel) after the events of season 6. Here's the synopsis:
At the end of last season, following an assassination attempt on her life, President Keane broke her promise to Carrie by arresting 200 members of the intelligence community without bringing charges against them, including Saul Berenson. As season seven begins, Carrie has left her job in the White House and moved back to D.C. and is living with her sister Maggie to take on the Keane administration and secure the release of the 200.
Homeland returns to Showtime on Sunday, February 11, 2018 at 9pm.