Showtime Trailers: 'The Chi' And 'Our Cartoon President'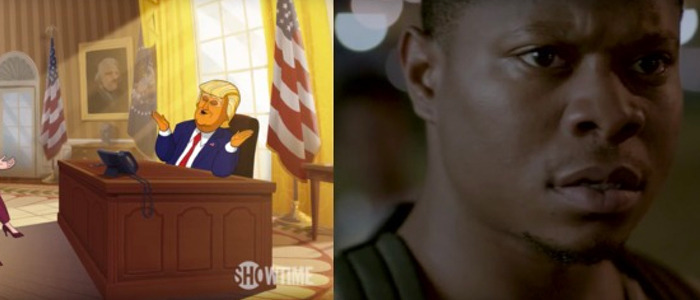 New year, new TV shows! Showtime, home of Twin Peaks, and also some other shows that aren't Twin Peaks, has released two trailers for two very different new series: The Chi, a new drama from Master of None break-out Lena Waithe; and Our Cartoon President, an animated look at the cataclysmic Trump White House, from executive producer Stephen Colbert. These shows couldn't be more dissimilar, and yet here they are, together! What a world! The Chi trailer and the Our Cartoon President trailer both await you below.
Lena Waithe won a much-deserved Emmy for writing the fantastic Mast of None episode "Thanksgiving" (an historic win that made her the first black woman to win an Emmy for Outstanding Comedy Writing), and now she's about to break out even more with her own new series. The Chi looks far-removed from Master of None, but it also looks incredibly engrossing. A new trailer for the film provides a captivating look at the Showtime series, and I'm not kidding when I say this trailer is better cut than 90% of Hollywood movie trailers.
The Chi trailer 
The Chi stars Jason Mitchell, Ntare Guma Mbaho Mwine, Jacob Latimore, Alex Hibbert, Yolonda Ross, Tiffany Boone, and Armando Riesco. The series is described as a "coming-of-age story centering on a group of residents of the South Side of Chicago who become linked by coincidence but bonded by the need for connection and redemption." Here's the official synopsis:
On Chicago's south side, an average day finds kids prepping for school as their parents head off to work, young adults trying to make a living, and the elders keeping an eye on things from their front porches. But in this tough neighborhood, real dangers threaten daily to squelch dreams, and the simplest decisions can have life or death consequences. The Chi is a timely coming-of-age drama series centered on a group of residents who become linked by coincidence but bonded by the need for connection and redemption.
When asked about the leap from a comedy like Master of None to a drama like The Chi, Waithe said, "I got into the business because I love writing. When it came down to finding my voice, which every writer has to take time to do, I think I realized I write black people very well. I write us in a very honest way and I want to hear the way we really talk. I don't pull any punches and I don't sugarcoat. I just like to make things human. Sometimes, that's not pretty. Sometimes it is."
The Chi airs on Showtime Sundays at 10 PM.
Now let's move onto something completely different. Showtime has a new animated series on the horizon: Our Cartoon President. The series comes from executive producer Stephen Colbert, and focuses on the topsy-turvy, continuously stupid Trump administration. Trump's entire rogue's gallery of freaks, sycophants and walking nightmares are here, in animated form. Check out the trailer.
Our Cartoon President trailer 
I'll be honest: this trailer made me laugh, and Jeff Bergman does an eerily spot-on job with Trump's voice. That said, I'm not sure who this show is for. I'm not saying we shouldn't make fun of the catastrophic Trump White House – I just worry that turning these people into literal cartoons sugarcoats their genuinely harmful decisions. I know people staunchly believe that in comedy, nothing is off limits. I just can't help but wonder if a show like this ends up helping Trump and company more than harming them.
Here's the official Our Cartoon President synopsis.
From executive producer Stephen Colbert comes this hilarious look into the Trump presidency, animation style. Starring two-dimensional avatars of Donald Trump and his merry band of insiders and family members, this cutting-edge comedy presents the truish adventures of Trump, his confidants and bon vivants. It's a workplace comedy where the office is oval, a character study in search of character, and a timely political send-up of our always-colorful forty-fifth president and his family. Trust us, it's yuge, and you're going to laugh bigly.
Our Cartoon President premieres Sunday, February 11, 2018 at 8PM.