Disney's Live-Action 'Aladdin' Is Under Fire "Browning Up" White Extras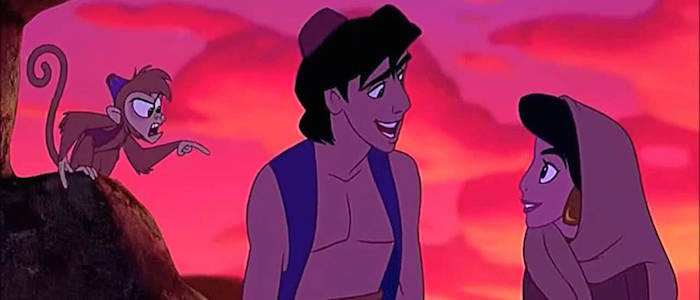 So much for having a completely diverse cast.
The new Aladdin movie has caused a stir once again, and yes, it's still related to race. Disney's live-action remake of the 1992 animated classic has come under fire for "browning up" its white extras to look more Middle Eastern. This comes after director Guy Ritchie initially struggled to find actors of Middle Eastern or Arab descent to play its lead roles of Aladdin and Jasmine, and Billy Magnussen's casting as a Nordic prince prompted criticism. And it seems that even in the midst of production, Aladdin's problems with race have not stopped.
Disney has admitted to using make-up to give its handful of white extras a more "Middle Eastern" look, according to Deadline.
The issue first emerged when actors working on the set of the live-action remake told U.K. media that they spotted several "very fair skinned" actors in line outside make-up tents "waiting to have their skin darkened." Aladdin extra Kaushal Odedra reported seeing this to The Sunday Times, adding, "Disney are sending out a message that your skin colour, your identity, your life experiences amount to nothing that can be powered on and washed off."
Disney confirmed that while 400 of 500 background performers on the set of Aladdin are of Indian, Middle Eastern, African, Mediterranean, or Asian descent, about 100 other extras are white. However, a Disney spokesperson released a statement defending the choice, saying the white extras were only used in cases that required skilled stunt performers or animal handlers:
"Great care was taken to put together one of the largest most diverse casts ever seen on screen. Diversity of our cast and background performers was a requirement and only in a handful of instances when it was a matter of specialty skills, safety and control (special effects rigs, stunt performers and handling of animals) were crew made up to blend in."
Except for Magnussen, Disney has taken special care to avoid criticisms of whitewashing — a common issue whenever Hollywood approaches a story that takes place east of western Europe — launching an intensive worldwide search for its stars before landing on Egyptian-Canadian actor Mena Massoud as Aladdin and half-British, half Gujarati Indian Power Rangers actress Naomi Scott as Jasmine.
However, while the cast remains largely diverse (for now), the crew and creative team behind Aladdin are still majority-white — which may lend to the carelessness when it comes to some of these controversial casting choices. Guy Ritchie is directing, while the screenplay has been written by Ritchie, John August, and Vanessa Taylor. The sole person of color on the team is Taiwanese-American producer Dan Lin, whose company Lin Productions is co-producing the film with Disney and Mark Platt Productions.
You can argue that much outrage is being made over nothing, but I don't think it should be overlooked that there isn't one person of Middle Eastern or Arab descent on the main creative team. Diversity begins behind the camera before it can be sensitively approached on the screen. Just look at Ava Duvernay using her status to support and launch the careers of other filmmakers of color. Disney should use their platform to support filmmakers of color as well, and perhaps the studio can avoid being at the butt of this week's pop culture news cycle.