Final 'Godzilla: Planet Of The Monsters' Trailer: It's Godzilla's World, We All Just Live In It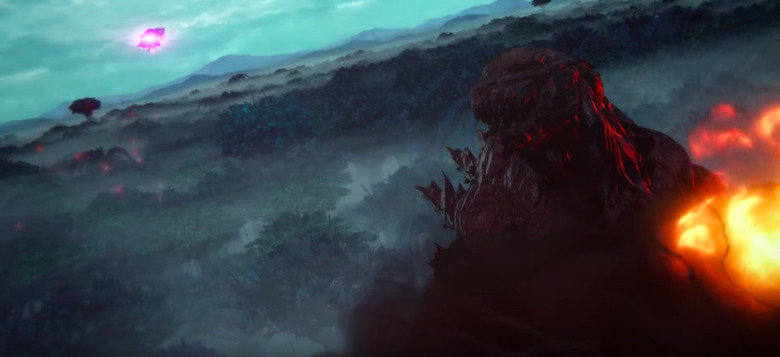 Are you ready for some kaiju carnage set to the soaring notes of an ebullient J-pop song? If not, then too bad, because Godzilla: Planet of the Monsters is coming soon to a Netflix screen near you.
The final trailer for the Godzilla anime has hit the internet a little more than a week before its worldwide release on the streaming platform. Set to the dulcet tones of J-pop singer Xai's theme song "White Out," tiny human beings try to do battle with the "biggest Godzilla of all." He may not be planet-sized like the title suggests, but he's pretty darn huge.
Godzilla Planet of the Monsters Trailer
Whatever reservations I have about the use of CG animation in this movie, I can't deny that it does look badass. While the animation of the humans is a little uncanny, Godzilla looks majestic — every crack and wrinkle in his hide pulsates with an eerie glowing energy. And besides, we all know the reason we watch these movies: to see a big monster blow things up. Even as an anime fan ambivalent to the mecha genre, it's thrilling to watch a gargantuan Godzilla go up against a small band of desperate humans piloting ships and giant robots.
The movie already premiered in Japan, but it's gearing up for a worldwide debut on Netflix. /Film writer Joshua Meyer had the privilege of seeing the movie early in Japan, writing in his review that the CG anime film was a solid addition to "the pantheon of strong franchise entries that capture the heart and soul of what Godzilla is truly about. But that asks another question: what is the true Godzilla ethos? At its core, is Godzilla meant to be a disaster movie, a monster movie, or some singular permutation of both?" However he does point out that it is "less as a movie and more as the first episode of a TV mini-series" due to its ambiguous and jarring ending.
Here is the synopsis for Godzilla: Planet of the Monsters:
In the year 2048, the human race is forced to leave Earth after decades of losing against Godzilla and other giant monsters. They take a twenty year journey to another planet called Tau Ceti e, but upon arrival, they discover that the planet has become uninhabitable. As living conditions on their ship deteriorate, a young man named Haruo spearheads a movement to return to Earth and take it back from the monsters. The ship successfully makes the return voyage, but the crew discovers that twenty thousand years have passed and Earth's ecosystem has evolved, with Godzilla reigning atop the new food chain.
Godzilla: Planet of Monsters will be released worldwide on Netflix on January 17, 2018.