Chris Hemsworth Has No Idea What's Going On With Quentin Tarantino's 'Star Trek' Movie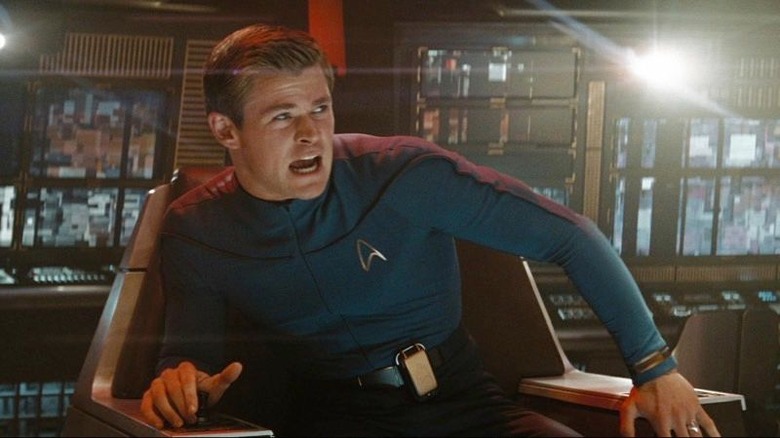 One moment, you're planning to boldly go back to the science fiction movie series that helped launch your career and the next...well, you're lost in space. Chris Hemsworth knows as much about Quentin Tarantino's planned Star Trek movie as you do, which means "not much." Surely, this doesn't bode well for the original Star Trek 4 pitch, which involved the return of Hemsworth's George Kirk.
Speaking with IGN, Hemsworth was pretty blunt about the whole thing:
I don't know. It's a reminder to call J.J. [Abrams] and ask the same question because I haven't heard any updates on it either.
You know when you make plans and the plans change and someone has to call that one friend who can no longer fit in the car for the trip and everyone puts off calling that friend because they don't want to be the jerk who delivers the bad news. Yeah. Feels like that, huh?
Two years before he played Thor and helped launch the Marvel Cinematic Universe, Chris Hemsworth had the brief but memorable role of George Kirk in J.J. Abrams' Star Trek reboot. In a heartbreaking prologue, the father of Captain James T. Kirk goes down fighting, holding off a time traveling baddie just long enough for the crew (including his pregnant wife) to escape. Star Trek 4, which would have followed 2016's very good Star Trek Beyond, would have brought George back to life in some way so he could team up with his son, Chris Pine's Captain Kirk, for a new adventure. It was a fun idea!
But then Inglourious Basterds and Django Unchained director Quentin Tarantino popped up with a Star Trek pitch of his own (still the weirdest movie news story of 2017) and everyone stopped talking about Star Trek 4 and started talking about this R-rated take from one of cinema's most audacious auteurs.
Don't weep for Hemsworth, though. Thor: Ragnarok was a huge hit and he told IGN that he never even saw a script for Star Trek 4:
Just the fact that he had a way of reinserting the character into the world. I can't say too much – there's not even a script – but I always thought, maybe, there was a possibility of him coming back in some way. I didn't know how or what, but he was pretty enthusiastic about what they had planned.
Hey, J.J. Abrams. Give your boy a call and let him know what's up.