'Red Sparrow' Trailer: Jennifer Lawrence Becomes A Master Of Deception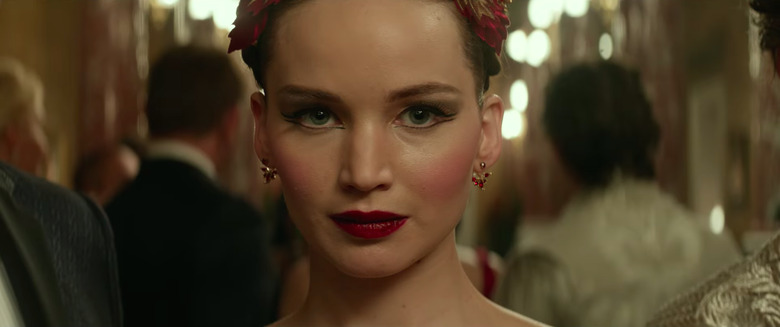 The Black Widow origin movie you always wanted? It's here, except it's called Red Sparrow and it stars Jennifer Lawrence speaking in a Russian accent while donning an array of flattering outfits. Yes, Jennifer Lawrence speaks in this trailer! After curiously withholding the Hollywood star's immediately recognizable voice for the entirety of the first trailer, Lawrence finally gets to speak her mind in the new official Red Sparrow trailer — and out comes a serviceable Russian accent.
It's not a terrible accent, though it's clear why the first trailer wanted to focus on the eerie visuals and the wordless chemistry between Lawrence and Joel Edgerton's American CIA agent. But the newest trailer is all about Lawrence's Dominika Egorova, as she makes the painful journey from prima ballerina to ruthless Soviet secret agent.
Red Sparrow Trailer
While the first trailer was more akin to a cryptic tone poem (and an excuse to parade Lawrence around in tight, form-fitting outfits), the second Red Sparrow trailer threatens to reveal the entire plot to the spy thriller film. It follows Dominikia Egorova as she's recruited into the Sparrow School after witnessing a heinous assassination of a Soviet political enemy, becoming their most dangerous and efficient asset yet. But the biggest danger she poses? Her "soul," Jeremy Irons' General Vladimir Andreievich Korchnoi tells her, marking her compassion for others as her biggest weak link. It's that compassion that makes her fall in love with her mark, Nathanial Nash (Edgerton), an American CIA agent acting as a mole in Russia.
Lawrence is a talented actress who can pull off a Russian accent, to an extent, but it seems like this role will demand more internality from her — something she's struggled with recently in Darren Aronofsky's mother! But there's no denying that Lawrence has a great physicality to her acting that lends to the role of a seductive assassin, even if the character seems similar to Charlize Theron's Lorraine in Atomic Blonde or Scarlett Johansson's Black Widow in the Avengers movies. But there is room for all kinds of female characters, similar or not, and I look forward to seeing what Lawrence can do in Red Sparrow.
Here is the official synopsis for Red Sparrow:
Dominika Egorova is many things. A devoted daughter determined to protect her mother at all costs. A prima ballerina whose ferocity has pushed her body and mind to the absolute limit. A master of seductive and manipulative combat. When she suffers a career-ending injury, Dominika and her mother are facing a bleak and uncertain future. That is why she finds herself manipulated into becoming the newest recruit for Sparrow School, a secret intelligence service that trains exceptional young people like her to use their bodies and minds as weapons. After enduring the perverse and sadistic training process, she emerges as the most dangerous Sparrow the program has ever produced. Dominika must now reconcile the person she was with the power she now commands, with her own life and everyone she cares about at risk, including an American CIA agent who tries to convince her he is the only person she can trust.
Red Sparrow is set to hit theaters on March 2, 2018.