'Rampage' Villain Malin Akerman Wants To Use Monsters For Money [TCA 2018]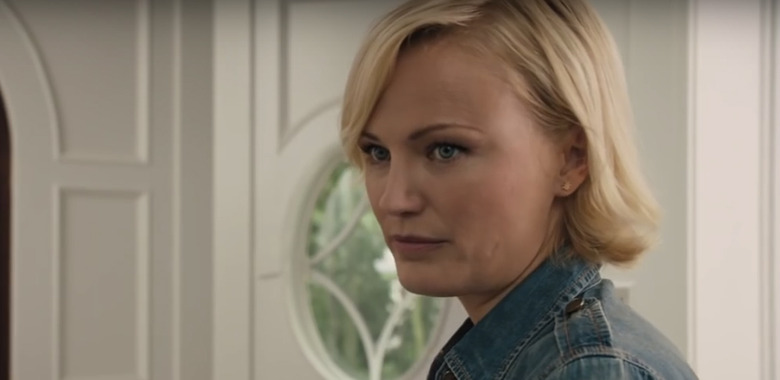 Actress Malin Akerman was on a Television Critics Association panel for the upcoming third season of her Showtime series Billions (seen above). After the panel, /Film was able to ask about her role in the upcoming video game adaptation Rampage, which Akerman filmed in between seasons of Billions. She was happy to detail her character's villainous plans, which is in stark contrast to Dwayne Johnson's character in the film.
Find out more about Malin Akerman's Rampage villain below.
"It's fun, I get to play the villain in it which was unique for me because I haven't played a villain before," Akerman said. "It's going to be big explosions and animals. Not quite as cartoony as a Batman or anything like that."
The classic arcade game was about humans transformed by a lab accident into a giant gorilla, lizard or wolf. The player controlled the monsters and earned points for destroying the city and subsequent games added more monsters. The movie takes a slightly difference approach though. You can watch the trailer here, but otherwise here's the official synopsis:
Primatologist Davis Okoye (Dwayne Johnson), a man who keeps people at a distance, shares an unshakable bond with George, the extraordinarily intelligent, silverback gorilla who has been in his care since birth. But a rogue genetic experiment gone awry transforms this gentle ape into a raging monster. To make matters worse, it's soon discovered there are other similarly altered alpha predators. As these newly created monsters tear across North America, destroying everything in their path, Okoye teams with a discredited genetic engineer (Naomie Harris) to secure an antidote, fighting his way through an ever-changing battlefield, not only to halt a global catastrophe but to save the fearsome creature that was once his friend.
Akerman's character is Claire Wyden, a new character who wasn't part of the video game.
"The villain wants power," Akerman said. "What else does a villain want? Her thing is she wants to create the most powerful weapon that she can sell for money, basically. That may be in the form of super powerful animals. It's basically, again, just power and money and control is what she wants ultimately."
The original game was from the monsters' point of view, since they were the playable characters. The film adaptation likely won't include that, since they've hired a major action hero to play the lead.
"It's more from the humans' point of view," Ackerman said. "I mean, we've got Dwayne Johnson so a lot of it's going to be from his point of view."
Rampage is directed by Brad Peyton, who previously worked with Dwayne Johnson on Journey 2: The Mysterious Island and San Andreas. It hits theaters on April 20, 2018