Donald Glover Reveals A Killer Millennium Falcon Shot from 'Solo' [TCA 2018]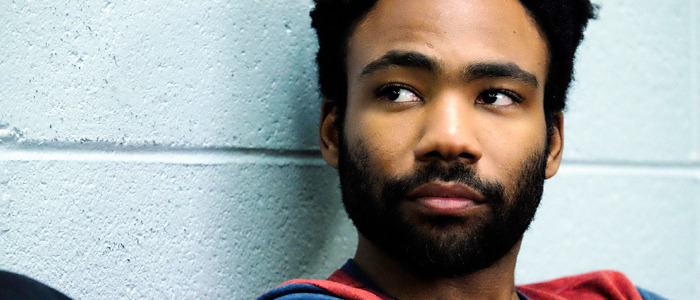 Donald Glover was on a panel for the second season of Atlanta for the Television Critics Association. After the panel, he spoke with reporters further, including about his role as Lando Calrissian in the upcoming Solo: A Star Wars Story. Glover revealed a shot that director Ron Howard will be the first to capture of the Millennium Falcon.
"I remember going on set one of the first times, he was like, 'Yeah, I want to follow you onto the Millennium Falcon and do this thing,'" Glover said. "I was like, 'I don't think I've ever seen the outside go into the inside.' He's like, 'Yeah, no one's ever done that shot.' As a fan I was like yeah, I was really excited. I know there's been a lot of talk in the press about this movie but for me anyway, it was a dream and also it looks really cool to me."
After Howard stepped in when Phil Lord and Chris Miller parted with the film, Glover said he did not reshoot much of what he had already filmed.
"Not a ton actually," Glover said. "Not a lot at all, at least not for me. I think we've all never been faced with anything like that and I think he did a good job of coming and tell us he didn't want to change what we were doing at all. He wanted us to remain confident in our vision. He just wanted to sculpt it in a way."
Howard was also supportive of Glover's take on Lando. "It was actually good to get another person on there who was like, 'What do you think of this?'" Glover said. "He grew up under Lucas and really is a fan himself."
Since Glover is used to being hands on in Atlanta and his music, being just an actor in Solo kept him from feeling stressed.
"I didn't have a lot of stress on it," he said. "For the first time in a long time, I was just acting. That doesn't happen a lot. Most of the time I have to write, do music, a bunch of other stuff. You wake up you go do a bunch of things. This time I woke up and I got to just really be someone else. The stress wasn't there for me."
Billy Dee Williams gave Glover some advice on playing his iconic Star Wars character. "He just told me to be charming," Glover said. "I was like that's the best advice ever."
Glover added that he got to bring his father to set.
"A big part of it was bringing my dad to see it," he said. "Growing up, he was like, 'This is really cool. This is the only black guy in space.' Now I get to be like, oh this is cool. You get to walk on here and see this. It was really fun. Man, it was such a blast. The Millennium Falcon is beautiful. It's a beautiful, beautiful piece of architecture. Flying that was really fun."
Glover also confirmed he would wear the cape.
By comparison, Glover said writing the Deadpool animated series had less pressure of expectations.
"That one seems really easy," Glover said. "It also feels like there's not as much to hold sacred in a weird way. I know people love Deadpool and I know people are big comic book geeks but it's not the same as Lando or Atlanta where you have a whole city on your back. Deadpool is very aware of himself so I don't have to live up to anything. It's actually been quite easy."