Kiernan Shipka Cast In Netflix's 'Riverdale' Spin-Off 'Sabrina'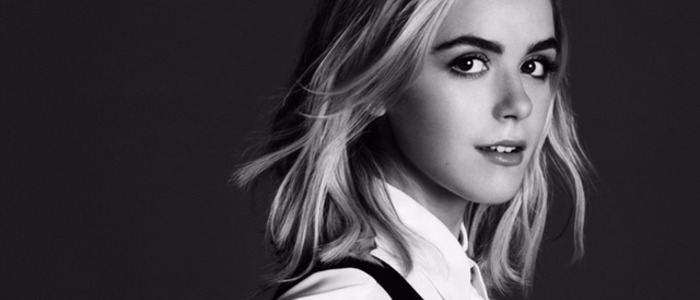 Netflix has found its Sabrina the Teenage Witch. Mad Men actress Kiernan Shipka has joined the cast of the Riverdale spin-off, which will be inspired by the Chilling Adventures of Sabrina comics. The comics update the Sabrina the Teenage Witch character into darker, more horror-themed stories. The still-untitled Sabrina TV show was acquired by Netflix in December.
Netflix's new Riverdale spin-off now has a lead actress. Kiernan Shipka, who played Jon Hamm's daughter on Mad Men, will play Sabrina Spellman in the still-untitled Netflix series inspired by The Chilling Adventures of Sabrina. The spin-off had originally been in development at the CW, Riverdale's official network, but the decision was made recently to take the show straight to Netflix. Moving Sabrina from The CW to Netflix made sense: Riverdale's viewership quadrupled in its second season after the first season dropped on the streaming platform.
"We're all such huge fans of Kiernan's work that when we started talking about who this new incarnation of Sabrina could be, her name was on everyone's wish list," said executive producer and Archie Comics Chief Creative Officer Roberto Aguirre-Sacasa, who also penned the script for the Sabrina show. "This is a darker, more macabre version of Sabrina, and we're incredibly excited for people to see Kiernan make this iconic character her own."
Sabrina the Teenage Witch was originally a comic book character who first appeared in Archie comics in 1962. The character starred in her own comedic TV sitcom from 1996 to 2003, with Melissa Joan Hart in the lead. While the original comics, and the sitcom, were lighter in tone, this new Netflix series is going to be dark and more horror-themed, in keeping with the revival comic series The Chilling Adventures of Sabrina. Early reports indicate the tone of the show will be closer to something like Rosemary's Baby or The Exorcist. Shipka has some experience with dark, disturbing horror: she recently appeared in the spooky, underrated horror film The Blackcoat's Daughter. Seek it out on Amazon Prime Video!
Here's how Archie Comics describes the new Sabrina show:
An empowered young woman, half-human, half-witch, Sabrina is just beginning her dark education as a sorceress, even as she tries to maintain a normal life as a sophomore at Baxter High. Intelligent, compassionate and brave to the point of recklessness, Sabrina is all that stands between us and the forces of darkness that threaten our world.
The CW's Riverdale updated the light and funny Archie comics into a dark, sexy, Twin Peaks-inspired series thats found a devoted audience. Originally, producers planned to have Sabrina appear on Riverdale before spinning her off into her own series. Whether or not that will still happen remains to be seen. Netflix gave a 20-episode/two-season order to the show back in December of 2017. An official premiere date has yet to be announced.