David Letterman's Netflix Show Arrives Later This Month, Barack Obama Is The First Guest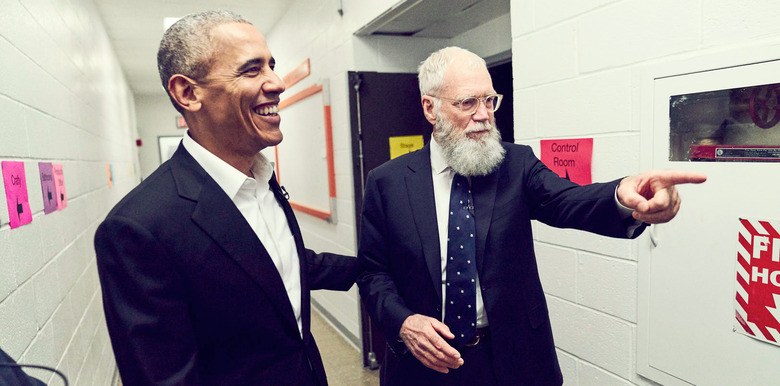 It's been two and a half years since David Letterman left behind The Late Show at CBS for a little bit of a retirement. But as any comedian will tell you, staying out of the spotlight isn't easy. So we weren't surprised to learn last summer that David Letterman was putting together an original series for Netflix.
Now Netflix has announced out of nowhere that David Letterman's new series will premiere on the streaming service next week, and the first teaser for the 60-minute talk show is available to watch. Letterman has some impressive guests lined up for the first six episodes, but unlike the rest of Netflix's shows, you'll have to wait a month between each one.
Watch the trailer for the Netflix David Letterman series below.
As you can see, the new show is called My Next Guest Needs No Introduction with David Letterman, but we'll still introduce which guests will be appearing on the show.
Former President Barack Obama will be Letterman's inaugural guest, and you couldn't ask for a bigger name to debut the series. That episode will be available on January 12, 2018, but the rest of the episodes will arrive one at a time in each subsequent month of 2018. Each episode will feature a different guest, almost like Letterman's own version of Inside the Actor's Studio, and the rest of the roster includes George Clooney, Malala Yousafzai, Jay-Z, Tina Fey and Howard Stern.
This is the first time Netflix hasn't made every episode of a series that has already been completed available to binge, so Letterman must have been pretty adamant about that when finalizing the deal. The only other time Netflix didn't make episodes of a show available to binge watch was a bit of a different scenario, because it was Chelsea Handler's half-hour comedy talk show Chelsea and that was because it aired three episodes weekly and they were taped in the same week.
The series will have Letterman doing what he does best, as the press release notes,:"In interviews that take place both inside and outside a studio setting, the conversations are intimate, in-depth and far-reaching, with the levity and humor Dave's fans know and love." It also says, "Field segments will bring Dave to locations far and wide, expressing his curiosity and desire to dig deeper on a specific topic related to the iconic guest featured in the episode."
It'll definitely be nice to have Letterman back in any capacity, it's just a shame that we'll have to wait so long between episodes to get another dose of the late night legend. But if we're lucky, this could just be the beginning of Letterman's work at Netflix.