The Morning Watch: Star Wars Edition - 'Battlefront 2' Gets An 'SNL' Mod, Episode 9 Theories & More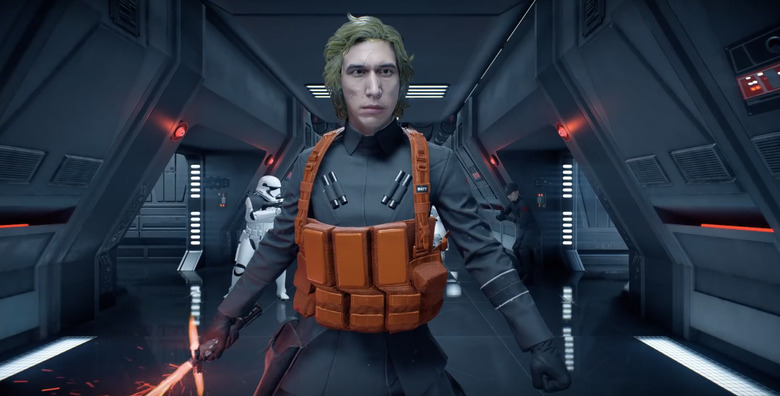 The Morning Watch is a recurring feature that highlights a handful of noteworthy videos from around the web. They could be video essays, fanmade productions, featurettes, short films, hilarious sketches, or just anything that has to do with our favorite movies and TV shows.
In this Star Wars edition, Star Wars Battlefront 2 gets an awesome mod inspired by a Saturday Night Live sketch with Kylo Ren. Plus, check out some Star Wars: Episode 9 theories and predictions and find out about all the different kind of TIE Fighters we've seen over the years.
First up, a computer mod (via Star Wars HQ) for Star Wars Battlefront 2 takes Matt the Radar Technician from Saturday Night Live's Star Wars edition of Undercover Boss and brings him into the video game. It's a perfect recreation of the character Kylo Ren dons to go undercover as a low-level employee at Starkiller Base. If you haven't seen that sketch, check it out right here.
Next up, now that we've seen Star Wars: The Last Jedi, we can start hypothesizing about what will happen in Star Wars: Episode 9. A new video from ScreenCrush puts forth some interesting predictions of what we'll see happen in what is supposed to be the conclusion of the Skywalker saga, as well as some propositions of what needs to happen.
Finally, take a look at a rundown of the various types of TIE Fighters from the Star Wars movies over the years. However, since this video was created back in April of 2017, it doesn't include Kylo Ren's TIE Silencer. Even so, this provides some interesting details about the Empire's always evolving fighter ships.