Watch: 'Girls Trip' Star Tiffany Haddish's 18-Minute NYFCC Acceptance Speech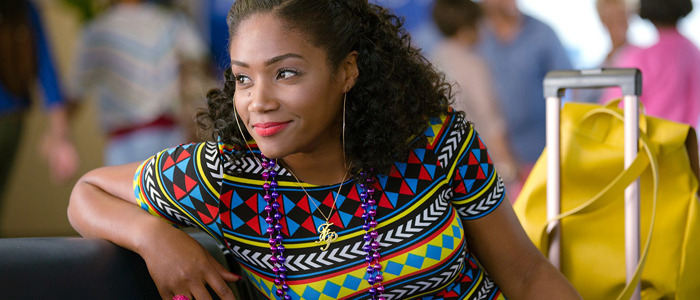 Tiffany Haddish had a heck of a year in 2017. After working on the stand-up comedy circuit and scoring small roles in films and television shows, the actress broke out in a huge way with her performance in Girls Trip last year. She was so good in that movie that the prestigious New York Film Critics Circle honored her with their Best Supporting Actress award, meaning that she beat out contenders like Allison Janney (I, Tonya), Laurie Metcalf (Lady Bird), and Mary J. Blige (Mudbound).
At the awards ceremony, the Girls Trip star took the stage and delivered an 18-minute speech that was emotional, self-effacing, inspiring, and very, very funny. Watch a video of the entire Tiffany Haddish speech below.
During the NYFCC awards show last night, Haddish accepted her award with a lengthy but hilarious speech that felt like a mixture of a stand-up set and a confessional, covering topics like an unused scene from Girls Trip she's particularly proud of, heartfelt words of advice about how to live your best life and "speak your truth," and much more. Buzzfeed film critic Alison Willmore was in attendance, and posted the entire video to her Facebook page:
Haddish's work in Girls Trip attracted attention from far more than just the New York Film Critics Circle. She hosted Saturday Night Live (becoming the first black female stand-up to do so in the show's history), and she even caught the eye of director Paul Thomas Anderson, who reached out to Haddish through one of his Phantom Thread stars at the NYFCC awards ceremony to ask if he could work with her.
Lesley Manville, accepting the NYFCC best screenplay award on behalf of PTA for PHANTOM THREAD, reads a message from him to Tiffany Haddish: "I know that everyone wants to work with you but may I please cut in front of the line" and then reads his phone number to the room

— Alison Willmore (@alisonwillmore) January 4, 2018
I haven't made time to see Girls Trip yet myself (it's currently in the #2 spot on my Netflix DVD queue), but I've heard Haddish is legendary in it, and that she totally holds her own alongside veterans like Queen Latifah, Regina Hall, and Jada Pinkett Smith. I did, however, watch her in the 2016 comedy Keanu, checked out her SNL episode, and saw this video that went viral last year of Haddish on Jimmy Kimmel Live recounting the time she took Will and Jada Smith on a swamp tour in Louisiana using a Groupon:
If you watched that whole NYFCC speech and thought, "Wow, that must have been a tough act to follow," you and The Florida Project star Willem Dafoe were thinking the same thing:
It seems unlikely that Haddish will receive an Oscar nomination for her work in Girls Trip since the Academy typically doesn't pay much attention to traditional comedies, but it's great to see her getting some recognition from a "serious" organization like the New York Film Critics Circle.