Watch This Groovy 'Ash Vs Evil Dead' Beer Commercial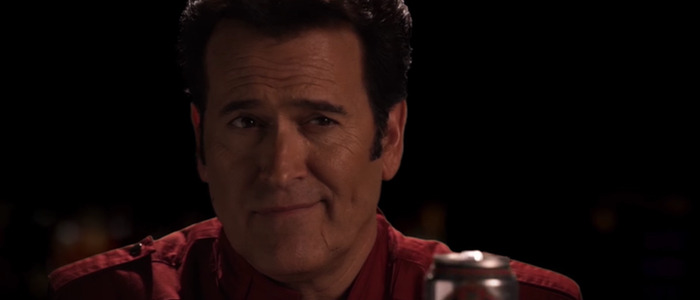 It's the first week after the holidays and the week itself is almost over, so don't even pretend you're actually doing work. Instead, run out the clock and watch this Ash vs. Evil Dead beer commercial, ahead of the show's return next month.
What are you doing right now? Just what I thought: nothing. You're probably still exhausted from the holidays, itching for this week to end so you can grasp the brief, sweet relief the weekend has to offer like a life preserver on a turbulent sea. It's time to break up the monotony with this brief, fun fake beer advertisement that doubles as a promo for the new season of Ash vs. Evil Dead. Watch as Ash (Bruce Campbell) and company waltz through a neon-lit campaign for Shemps beer set to "(I Just) Died In Your Arms Tonight" by Cutting Crew.
Ash vs Evil Dead
The name Shemps has a long-standing tradition in Evil Dead lore. The term traces back to the Three Stooges – when Curly replacement Shemp Howard died suddenly of a heart attack, the remaining two Stooges, Moe and Larry, shot new Stooges shorts using stock footage and stand-ins for Shemp shot from behind. When Sam Raimi made the first Evil Dead in 1981, a lot of the cast and crew abandoned the shoot halfway through production. Rather than replace actors and reshoot footage already filmed, Raimi simply used stand-ins, including star Bruce Campbell, Rob Tapert, Josh Becker, assistant David Goodman, and Sam Raimi's brother Ted Raimi, and listed them as "Fake Shemps" in the credits. Cue the NBC "The More You Know!" bumper.
While this Shemps ad isn't a traditional trailer, it does serve as a reminder that the new season of Ash vs. Evil Dead returns to Starz in February. Evil Dead franchise star Bruce Campbell returns yet again as Ash Williams, the one-handed chainsaw fanatic who is doomed to forever fight the forces of darkness. Also returning is Lucy Lawless as Ruby, the sometimes good, sometimes bad character Ash and his friends frequently bump heads with, Ray Santiago as Pablo Simon Bolivar, Ash's sidekick, and Dana DeLorenzo as Kelly Maxwell, who has been with the team ever since the Deadites killed her parents.
Evil Dead kicked off in 1981 with Sam Raimi's cult-classic, which gave way to the comedic Evil Dead 2 and then the goofy-as-hell Army of Darkness. Raimi and company had been teasing an Evil Dead 4 for years, but it never materialized. The franchise was raised from the dead when Ash vs. Evil Dead debuted on Starz in 2015.
Ash vs. Evil Dead season 3 premieres February 25, 2018.