Syfy Officially Announces George R.R. Martin 'Nightflyers' Series And Cast, Co-Produced With Netflix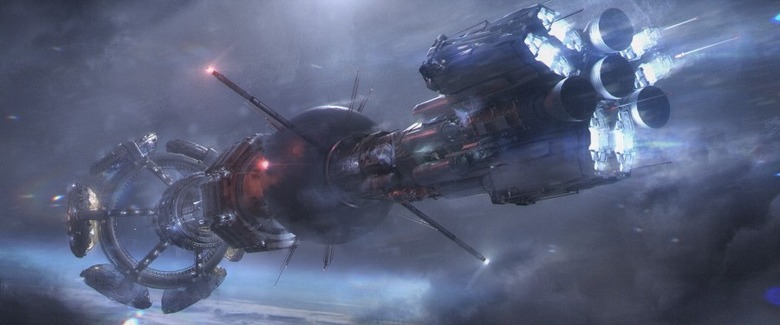 After rumors floating around for the better part of a year and an excited blog update from George R.R. Martin himself, Syfy has officially picked up the Nightflyers series.
An adaptation of Martin's 1980 "haunted starship" novella, Nightflyers has received the green light to begin production, with Jeff Buhler (Jacob's Ladder) penning and producting the series alongside showrunner Daniel Cerone (The Blacklist). The cast includes Boardwalk Empire star Gretchen Mol, The Night Shift's Eoin Macken, and more.
We learned from Martin's "Not a Blog" LiveJournal in November that Syfy was developing Nightflyers as a 10-episode series, with a planned premiere of July 2018. Now, Syfy gives official confirmation that this series is happening, though it remains vague on planned production and premiere dates, which gives me the impression that we'll see it later than July 2018. There's your classic Martin move again, promising specific dates only to renege on those promises without an end date in sight! (I kid. I'm not bitter about The Winds of Winter. Nope. Not at all.)
But Syfy is certainly moving forward on Nightflyers, which will be a co-production between Universal Cable Productions and Netflix. While the series will air in the U.S. on Syfy, Netflix has first-run rights everywhere outside of the U.S.
Syfy announced on Thursday that it was picking up the series, with a finalized cast of Gretchen Mol (Boardwalk Empire) as Dr. Agatha Matheson, Eoin Macken (The Night Shift) as Karl D'Branin, David Ajala (Fast & Furious 6) as Roy Eris, Sam Strike (EastEnders) as Thale, Maya Eshet (Teen Wolf) as Lommie, Angus Sampson (Fargo) as Rowan,  Jodie Turner-Smith (The Last Ship) as Melantha Jhirl, and Brían F. O'Byrne (Million Dollar Baby) as Auggie. The series will shoot in Ireland.
Here is Syfy's official synopsis for Nightflyers:
NIGHTFLYERS follows eight maverick scientists and a powerful telepath who embark on an expedition to the edge of our solar system aboard The Nightflyer – a ship with a small tightknit crew and a reclusive captain — in the hope of making contact with alien life. But when terrifying and violent events begin to take place they start to question each other — and surviving the journey proves harder than anyone thought.
The 1980 novella was a "haunted starship" story set in Martin's Thousand Worlds universe, which he later expanded as a collection of short stories in 1985. The story was first adapted as a campy 1987 feature film directed by Robert Collector, which followed a group of scientists on board a spaceship who are terrorized by the ship's sentient computer.
Martin has an executive producer credit but promised that he won't play an active role with the series, giving his blessing to Buhler and Cerone. The pilot will be directed by Mike Cahill (I Origin).
No release date has been announced for Nightflyers.