'Winchester' Trailer: The House That Ghosts Built Brings New Scares And A Shorter Title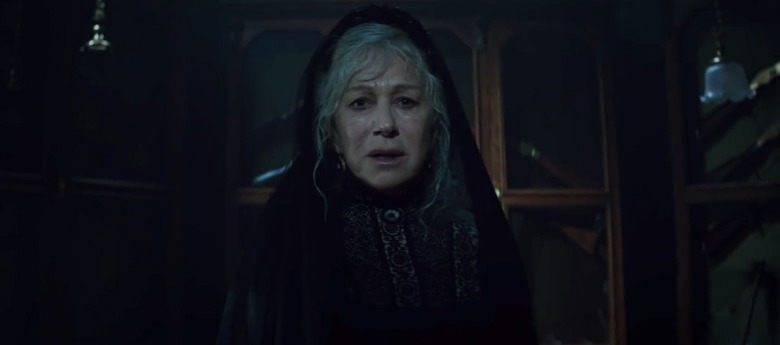 There are plenty of horror movies about haunted houses, but this might be the first about a house intentionally built for the purpose of imprisoning ghosts.
No, we're not talking about a reboot of Ghostbusters again (at least not yet), but rather Winchester. Formerly given the subtitle of "The House That Ghosts Built" when the first trailer debuted last year, CBS Films has opted to go with the shorter title of Winchester (it's cleaner). But that doesn't mean there's a shortage of scares in this horror thriller starring Helen Mirren and Jason Clarke.
Watch the new Winchester trailer below.
Winchester Trailer
A horror film released in January or February doesn't usually create much excitement as both months are usually a dumping ground for movies that aren't good enough for summer or awards season (with a few exceptions here and there). But the presence of Helen Mirren and Jason Clarke helps pique my interest.
Furthermore, the story at the center of this particular movie is rather intriguing. This seven-story house with hundreds of rooms makes for quite the terrifying setting, and the prospect of a ghost who unleashes the rest of the spirits captured within only heightens that terror.
However, the ghost in question doesn't look all that scary in the quick glimpses of him in the trailer. This could end up being a scenario where the suspense and the tension ends up being more unnerving than the ghost itself. Here's hoping that The Spierig Brothers (Jigsaw, Predestination) have created a horror movie worth talking about next month.
Here's the official synopsis:
Inspired by true events. On an isolated stretch of land 50 miles outside of San Francisco sits the most haunted house in the world. Built by Sarah Winchester, (Academy Award-winner Helen Mirren) heiress to the Winchester fortune, it is a house that knows no end. Constructed in an incessant twenty-four hour a day, seven day a week mania for decades, it stands seven stories tall and contains hundreds of rooms. To the outsider it looks like a monstrous monument to a disturbed woman's madness. But Sarah is not building for herself, for her niece (Sarah Snook) or for the troubled Doctor Eric Price (Jason Clarke) whom she has summoned to the house. She is building a prison, an asylum for hundreds of vengeful ghosts, and the most terrifying among them have a score to settle with the Winchesters...
Winchester hits theaters on February 2, 2018.