Theme Park Bits: 'Star Wars' VR Experience Preview, 'Peanuts' Celebration At Knott's Berry Farm, And More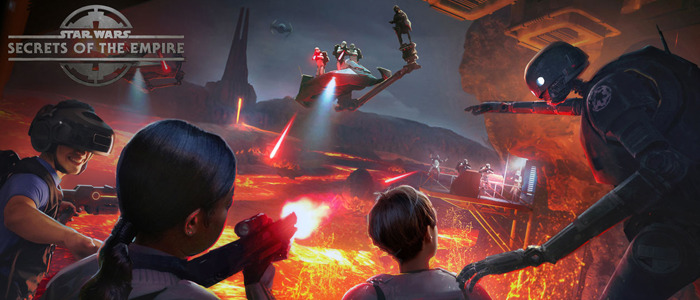 In this edition of Theme Park Bits:
Get a sneak peek of the VR attraction Star Wars: Secrets of the Empire.
The Edison is now open and drawing 5-star reviews at Disney Springs.
Find out about the Wrinkle in Time preview coming to Disney parks.
See video of the Hogwarts New Year's Eve fireworks at Universal Studios.
Details on the upcoming Peanuts Celebration at Knott's Berry Farm.
And more!
In the video above, you can see a sneak peek of the neat new "hyper-reality experience," Star Wars: Secrets of the Empire, which recently debuted at Disney Springs in Florida, and which opens in California's Downtown Disney District on January 5. Tickets for both locations are available at TheVoid.com.
Fan-favorite Star Wars actor Warwick Davis will be a guest presenter on the March 17-24, 2018 #StarWarsDayAtSea sailing! https://t.co/9WJnn2lyD1

— Disney Parks (@DisneyParks) January 4, 2018
Fresh off his appearance at Star Wars: Galactic Nights in December, Warwick Davis has been announced as a Star Wars Day at Sea Guest Presenter this year. Presenters rotate on a weekly basis with each cruise from January 6 until April 28. Disney Parks Blog has the full list, which includes Lucasfilm Story Group creative executives Pablo Hidalgo and Matt Martin, among others.
Thanks to everyone who joined us for our #NYE Grand Opening Gala @ #theedisonfla @disneysprings. We wish everyone a great #2018 and hope to see you here soon! pic.twitter.com/yrrPqw4b3u

— TheEdisonFLA (@TheEdisonFLA) January 1, 2018
The Edison is now open at Disney Springs, and as Inside the Magic reports, some attendees are calling the new restaurant — which becomes an adults-only venue after 10 p.m. — a "game-changer for Central Florida." Reservations start on January 15 via the free online service OpenTable.
Are you ready to go bowling in the Downtown Disney District? Splitsville Luxury Lanes is coming in early 2018 and Disneyland Resort has a YouTube preview of the new two-story facility available above.
What were the best new theme park rides of 2017? USA Today has shared its picks.
Starting February 9, a full month before the movie hits theaters, guests at Disney California Adventure and Disney's Hollywood Studios will be able to enjoy a special preview of A Wrinkle in Time, the new live-action Disney film with an all-star cast directed by Ava DuVernay (Selma, 13th).
The film's 14-year-old lead actress, Storm Reid, has commented on the empowering nature of her role for little girls. As Tech Crunch reports, Girls Who Code, a nonprofit organization built around the advancement of women in computer science, has also been getting a boost from Disney Imagineering.
Happy New Year from Hogwarts!

(🎥 Gadi Schwartz) pic.twitter.com/N64drSEJ5L

— NBC News (@NBCNews) January 1, 2018
NBC News correspondent Gadi Schwartz posted some video of the New Year's Eve fireworks going off over Hogwarts Castle at Universal Studios. Check it out in the tweet above.
Hogwarts will also be hosting a new Harry Potter projection-mapping show in 2018. Inside the Magic and the Universal Orlando blog have more details on that, as well as some of the other new attractions coming to the resort this year, such as the Fast & Furious – Supercharged ride and Universal's Aventura Hotel.
Will Universal Studios Hollywood expand their resort to include hotels like they revealed in 2013 as part of the Evolution Plan?https://t.co/gbQ59oodjo

— Inside Universal (@insideuniversal) December 20, 2017
Meanwhile, as Inside Universal notes, Universal Studios Hollywood still lacks its own on-site hotel, yet the park's owner, NBCUniversal, is not in favor of a proposed expansion to the nearby Hilton Universal.
Kick off 2018 Seasons of Fun with the all-new #KnottsPeanutsCelebration. Enjoy new character experiences, activities, live entertainment, and deliciously themed-treats on weekends starting January 27 – February 25, plus Presidents' Day. https://t.co/E5pZZePxfh pic.twitter.com/fEjtZWjdQ9

— Knott's Berry Farm (@knotts) January 3, 2018
Elsewhere in California, Charlie Brown, Snoopy, and other characters from the Charles M. Schulz comic strip Peanuts are set to take over Knott's Berry Farm on weekends from January 27 to February 25. if you've ever wanted to meet those characters and get a picture with them, this is your chance.
As mentioned in this column back in September, Universal Studios Japan has a VR (or XR, as they call it) Final Fantasy ride coming to it this year. Bleeding Cool has more details on this limited-time attraction, which runs from January 19 to June 24. Above you can see a 15-second teaser for the ride.
VIDEO: Porg makes character appearance for @StarWars: #TheLastJedi event in Tokyo https://t.co/aEwd3fdhUo pic.twitter.com/gPWA4WaNjE

— Inside the Magic (@InsideTheMagic) December 21, 2017
Japan loves cute, huggable mascots, so is it any surprise that amid all the other Star Wars goings-on in Tokyo last month, a human-sized porg was spotted at a department store? Also spotted (by me personally, from a distance) at a Hall-H-like event were Mark Hamill and friends.
Droids, @HamillHimself, and @RianJohnson on stage, and Japanese fans in costume for the Tokyo premiere of Star Wars: #TheLastJedi tonight. pic.twitter.com/DAyksfMXjt

— Joshua Meyer (@TheGaijinGhost) December 6, 2017
As they say in Japanese: fo-su to tomo ni are. (May the Force be with you.)