'Killroy Was Here' Teased In A Set Photo From Director Kevin Smith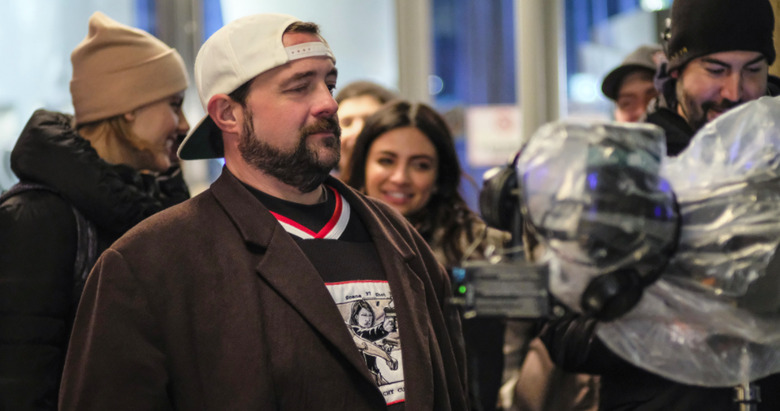 Kevin Smith is a busy man, juggling several projects including a Jay and Silent Bob reboot, TV directing work, and of course, his podcast.
And a few days into 2018, Smith is already raring to go, sharing a photo from the set of his latest movie.
Kevin Smith's upcoming movie Killroy Was Here is a horror anthology film based on the World War II "meme." That's a strange sentence to say, but it's true: "Kilroy was here" was a phrase that went "viral" long before the internet existed, in the form of graffiti that spread all over the world. The graffiti, specifically, was a doodle of a bald man with a bulbous nose peeking over a wall with the phrase "Kilroy was here" written next to him. The doodles of Kilroy span the world, mostly spread by GI's in the 1940s.
There's not much meaning to Kilroy beyond being a silly drawing that author Charles Panati called a "national joke." But the dumb doodle has become such a pop culture icon that he's now getting his own feature film, in the form of Kevin Smith's misspelled horror film (why the extra "l," Kevin?). Smith tweeted an image from the set of Killroy Was Here, with the caption, "Starting 2018 the fun way: on a movie set!"
Starting 2018 the fun way: on a movie set! pic.twitter.com/IKh7QhVyVj

— KevinSmith (@ThatKevinSmith) January 2, 2018
Smith has ventured into horror with 2016's Yoga Hosers, 2014's Tusk, and 2011's Red State, and he's sticking with the genre with Killroy Was Here, which he has described as an anthology film revolving around a Kilroy figure that is a combination of Golem, the Boogeyman, and the Grim Reaper. In a press release last year, Smith said he was planning to make Killroy "in the vein" of George A. Romero's 1982 black comedy horror anthology film, Creepshow. Originally, Smith and executive producer/co-writer Andrew McElfresh were planning a horror-comedy approach to the demonic Christmas figure Krampus, but retooled the film after 2015's Krampus hit theaters.
But don't worry, Jay and Silent Bob fans. Smith will likely get to that reboot as soon as Killroy wraps. That, and the five other projects that he currently has in the works, including the TV movie Hollyweed, a MallBrats TV series, and something called Moose Jaws.
There has been no release date announced yet for Killroy Was Here.