'Portlandia' Season 8 Trailer: Fred Armisen & Carrie Brownstein Return For One Last Season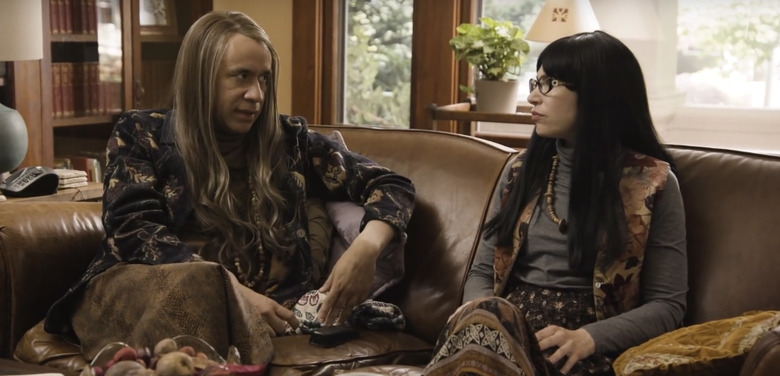 All good things must come to an end, and 2018 will see the conclusion of Portlandia.
The hit hipster sketch comedy series brought to IFC by comedy duo Fred Armisen and Carrie Brownstein will finish things up with an eighth and final season, and the first trailer for the show's swan song has just debuted. Several fan favorite characters are back, and you can see what they're up to in the Portlandia season 8 trailer below.
The (former) feminist bookstore owners Toni and Candace appear to be figuring out what to do with their lives, opting to start a women's health clinic despite having no medical experience between them at all. They get most of the screentime in this trailer, but they're not the only ones teased for the eight season.
Fred Armisen will also bring Spyke back, who wants to bring punk music back in a big way. Cath and Dave appear to be having a difficult time with an escape room experience. And The Goths try to figure out how to give a nice eulogy. It's a quick tease for the season ahead, and hopefully we'll see more before the series returns to IFC one more time later this month.
We know at some point that Toni and Candace will be encountering Gil Faizon and George St. Geegland, the two characters brought to life on Broadway and The Kroll Show by Nick Kroll and John Mulaney. Some set photos were posted by both Carrie Brownstein and Fred Armisen last year teasing the meeting of these two hilarious duos, but unfortunately there's no footage to be found from that day of shooting in this trailer.
Otherwise, Twin Peaks fans will be happy to see that Kyle MacLachlan is back as the mayor of Portland again. One has to wonder if they'll make some kind of cheeky reference to the David Lynch series since it returned last year. Surely he won't be the only returning guest star on the series as Portlandia comes to an end. The series has a long list of incredible guest stars and cameos from the previous seven seasons, and it would be a shame if we didn't see some of them come back in some capacity.
Even though this is supposed to be the final season, we're living in a time when TV shows from years ago are getting revived all the time. After the show has been gone for awhile, I wouldn't be surprised if Fred Armisen and Carrie Brownstein have some kind of revival of the series to check in on some of their characters.
The final season of Portlandia begins airing on January 18, 2018 on IFC.