'Scandal' And 'How To Get Away With Murder' Are Crossing Over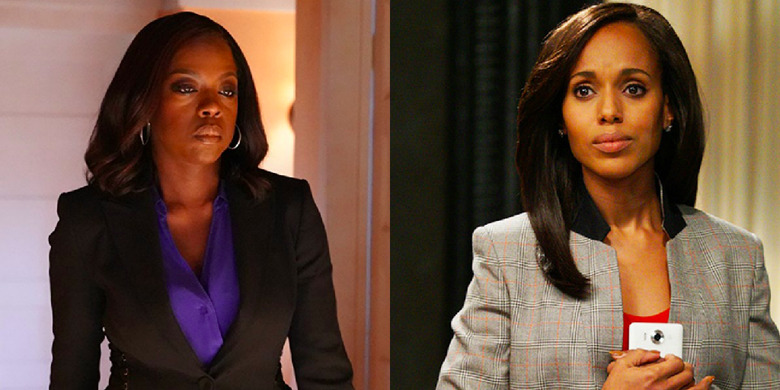 Thank god it's Shondaland.
Two of Shonda Rhimes' biggest primetime dramas will receive a crossover event, which will help close out Scandal's final season. The Scandal and How to Get Away With Murder crossover will unite the two show's leading ladies, played by Kerry Washington and Viola Davis, on the small screen for the first time.
Olivia Pope (Washington) will manage her last crisis in April of this year at the close of Scandal's seventh season, but before her show ends its run, she'll meet a law professor who's an expert in murder.
On Wednesday, Washington and Davis teased the crossover event between their two series on social media, posting tantalizing photos of themselves on each other's sets — Washington in a familiar courthouse, Davis in a White House office.
Hey Ms @violadavis ❤️ check it out. This spot look familiar?! Where are you? https://t.co/JFdiCTmbFs pic.twitter.com/OcLdXtS9Nz

— kerry washington (@kerrywashington) January 3, 2018
Hey @KerryWashington, guess where I am?! pic.twitter.com/WKKJzrQcJx

— Viola Davis (@violadavis) January 3, 2018
The crossover, expected to air in March, was confirmed by none other than Rhimes herself, who posted a snapshot of the script detailing the first meeting between Olivia Pope and Annalise Keating. How to Get Away With Murder executive producer Pete Nowalk tweeted the same script page.
People. It's happening. @petenowalk, you ready for this? #TGITCrossover #HowtoGetAwaywithScandal pic.twitter.com/laROhxbeu8

— shonda rhimes (@shondarhimes) January 3, 2018
The scene seems to depict Olivia Pope lecturing a class, perhaps at Annalise Keating's Philadelphia-based Middleton University. The silence met to Olivia's question is broken by Annalise answering her question.
This is the first time the two shows will cross over according to Deadline, but it will likely be the last, with Scandal reaching its seventh and final season while How to Get Away With Murder continues on after its fourth season. The stars from Shondaland shows Grey's Anatomy (which, yes, is still airing), Scandal, and How to Get Away With Murder frequently appeared in ABC's Thank God It's Thursday promos and publicity events, but they have not guest-starred in each other's shows until now. The exception being Grey's Anatomy with its spin-offs, but that show seems to be off in its own corner of the universe.
This makes the Scandal and How to Get Away With Murder crossover all the more exciting, particularly because both shows are Rhimes' first series featuring women of color in the lead roles. Both Washington and Davis have become irrefutably pop culture icons in the roles, and it is only fitting that Washington will close out her run in Scandal by teaming up with yet another powerful black woman.
ABC's "Thank God It's Thursday" block returns with new episodes on January 18, 2018.