Rose McGowan Docu-Series 'Citizen Rose' Premieres This Month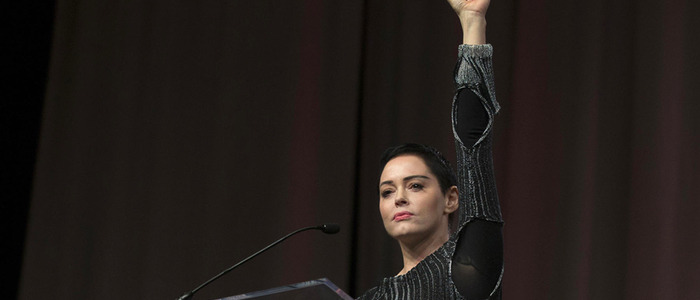 A five-part docu-series focused on actress Rose McGowan will debut on E! later this month. McGowan, who appeared in films such as Scream, Jawbreaker and Grindhouse was one of the first actresses to come forward with sexual assault allegations against Harvey Weinstein. The new series, titled Citizen Rose, will go behind-the-scenes of McGowan's life. In addition to the new series, McGowan also recently claimed that her Grindhouse director Robert Rodriguez used the Weinstein incident to play "mind games" with her on set, contrary to what Rodriguez has claimed in the past.
Actress Rose McGowan's life will be on display in the new E! docu-series Citizen Rose. The five-part doc will premiere on January 30, 2018, and will give viewers an up-close-and-personal look at McGowan's "tumultuous and fascinating life" while also depicting "in almost real-time, the massive social change she has helped usher in as well as fight back against those who have hurt so many, including her."
McGowan was one of the first actresses to come forward with sexual assault allegations against The Weinstein Company co-founder Harvey Weinstein. McGowan's allegations, and allegations against Weinstein from other actresses, were chronicled in an explosive piece written by Ronan Farrow. Since the story broke, Hollywood (and beyond) has found itself in a state of upheaval as more and more hushed-up sexual assault allegations against manipulative men of power have surfaced. McGowan's statements on Weinstein, along with allegations from other actresses, finally helped bring down Weinstein after his decades of manipulative, destructive behavior.
Of the docu-series, Amy Introcaso-Davis, Executive Vice President of Development and Production at E!, said:
"Rose McGowan's courage in addressing sexual abuse and harassment in Hollywood ignited a conversation and inspired other women to speak out against their abusers...We look forward to taking viewers inside this talented, dynamic woman's world as the first allegations unfold and she becomes a leading voice in a critical cultural change."
"As I ready my book, 'BRAVE,' I realized I wanted to show how we can heal through art even when being hounded by evil," McGowan said in a press release for the show. "I want to have a conversation with everyone, and most especially, you about looking at things differently and seeing beauty everywhere," the actress and activist added. "E!'s tremendous reach and impressive platform allow me to globally communicate the importance of living a BRAVE life."
Speaking of BRAVE, while talking about the book to Vanity Fair, McGowan contradicted a claim previously made by her Grindhouse director Robert Rodriguez. Back in October, when the Weinstein story was blowing up, Rodriguez told Variety that he deliberately cast McGowan in Grindhouse to spite Harvey Weinstein. Rodriguez, who dated McGowan from 2006 to 2009, said that after McGowan told him that Weinstein had allegedly raped her and had then blacklisted her in Hollywood, the director was was incensed. "I told Rose that she was not blacklisted from my movies and that Harvey couldn't tell me who to cast," Rodriguez said.
But McGowan insists that's not what happened at all. Per the Vanity Fair piece, once Rodriguez learned of McGowan's assault at Weinstein's hands, he proceeded to use the traumatic experience to play "mind games" with the actress:
[Rodriguez' proceeded to use the knowledge against her, she claims, as a tool for mind games, starting with a scene in which Tarantino, playing a character in his movie, attacks McGowan's character. "I was in a backward world," she writes. "I was losing my grip on sanity." In what McGowan interpreted as the ultimate act of cruelty, Rodriguez "sold our film to my monster."
BRAVE is expected to hit bookstores on January 30, 2018, the same day that Citizen Rose premieres.