Could 'The X-Files' Be Coming To An End? Chris Carter Comments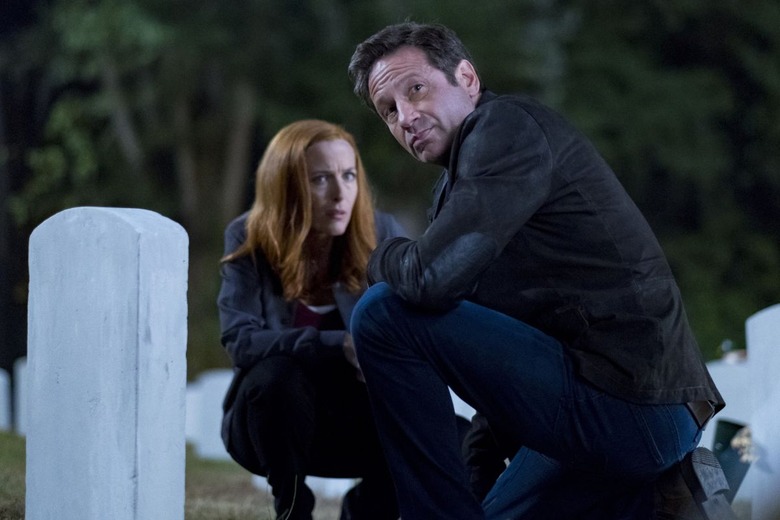 Could the truth soon be found?
Chris Carter, David Duchovny, and Gillian Anderson are gearing up for the 11th season of The X-Files, the second set of episodes after the seminal sci-fi series was revived more than a decade after its 2002 cancellation. But the revival is likely short-lived: Anderson will be turning in her gun and badge after the season 11 wraps, no longer reprising her role as FBI Agent Dana Scully. So what does that mean for the fate of the X-Files? Series creator and showrunner Chris Carter has shared his thoughts.
Fox Mulder and Dana Scully. Two names that are inseparable from the legacy of The X-Files, one of the longest running sci-fi series on primetime TV, thanks largely in part due to the crackling chemistry between Duchovny and Anderson. The X-Files has limped by before without one of the dynamic duo — Duchovny was MIA for much of Season 8 and 9, temporarily replaced by Robert Patrick's Agent Doggett and Annabeth Gish's Agent Reyes –  but with the revival relying heavily on the star power of the return of Mulder and Scully, could the series survive Anderson leaving as Dana Scully?
"For me, the show has always been Mulder & Scully," Carter said in response to a question about Anderson's departure during an AMA on Reddit. But he stayed purposefully vague on whether this spelled the end for The X-Files, instead inviting viewers to tune in and wait for the finale:
So the idea of doing the show without her isn't something I've ever had to consider. Was her character given a proper goodbye? I think you will want to sit down and watch the series finale very carefully.
In an interview with TV Insider, Anderson said confirmed her departure, saying, "I've said from the beginning this is it for me. I was a bit surprised by people's [shocked] reaction to my announcement... because my understanding was that this was a single season."
But to this, Carter chimed in with the suggestion that the search for the truth could continue after Scully leaves. "There are a lot more X-Files stories to tell," Carter said. "Whether we get to tell them is a question mark. The truth is out there."
The 11th season of The X-Files premieres on FOX tonight, January 3, 2018 at 8 p.m. EST.