'Black Panther' Character Bios Reveal New Details About Villain Erik Kilmonger & More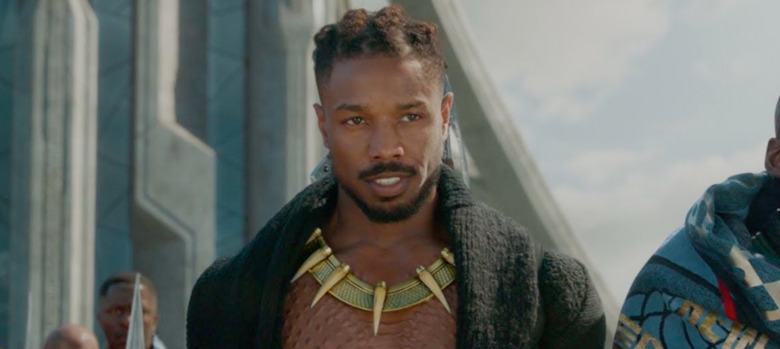 The arrival of Black Panther is less than a month and a half away, and next week we'll get one more look at what Marvel Studios has in store for the king of Wakanda when the final trailer debuts on January 8. Until then, we have some new details about the various characters filling out this new superhero movie.
A new batch of Black Panther character bios has surfaced online, and while they don't reveal anything new about T'Challa, we do find out some extra information about the supporting characters around him when he returns to Wakanda after the death of his father T'Chaka in Captain America: Civil War.
Toys R Us has a new page focused around Black Panther as part of their "Movie HQ" toy line-up, and on that page you'll find a countdown to the release of the movie (only 44 days left), a guide to some cool Black Panther toys, and a gallery of character bios for featuring our superhero and his allies, as well as the film's primary villain. So let's get into Marvel's Black Panther characters.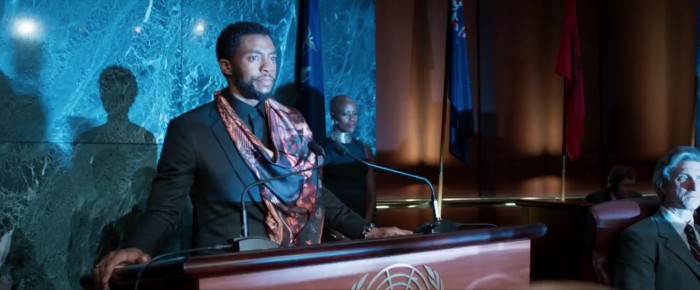 Black Panther (T'Challa)
As the new king of Wakanda, T'Challa is struggling to cope with the loss of his father T'Chaka, but is determined to live up to his great legacy. When Wakanda finds herself beset by two enemies intent on the nation's downfall, Black Panther must use his new suit and heightened strength, speed and senses to defend Wakanda and the rest of the world.
Not much new information there. The two enemies mentioned, who we'll get to later, are likely Erik Killmonger (Michael B. Jordan) and Ulysses Klaue (Andy Serkis) unless there's some kind of surprise villain we don't yet know about. But either way, T'Challa (Chadwick Boseman) is going to have his hands full.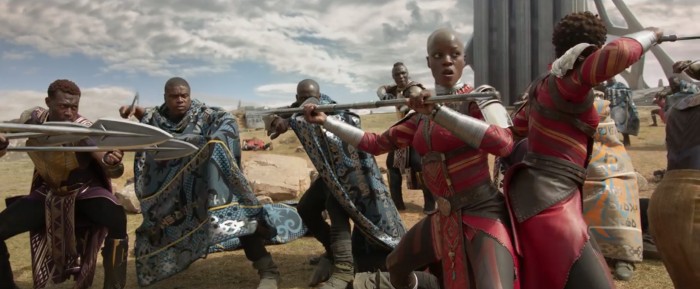 Okoye
The head of the Dora Milaje, an all-female special forces group, Okoya is a fiercely loyal protector of Wakanda who isn't afraid to question her king, but would defend him with her life. A staunch traditionalist who is as formidable with her spear as she is with her tongue, Okoye finds herself torn between her allegiance to her country and her king when T'Challa begins to challenge ancient Wakandan rules.
It's great that Black Panther has a character like this at his side. While Okoye (played by Danai Gurira) will defend T'Challa at all costs, she also challenges him by staying true to the traditions of the Wakandan people when he believes it's time to make a change. That will make for a very interesting dynamic between our hero and his closest ally.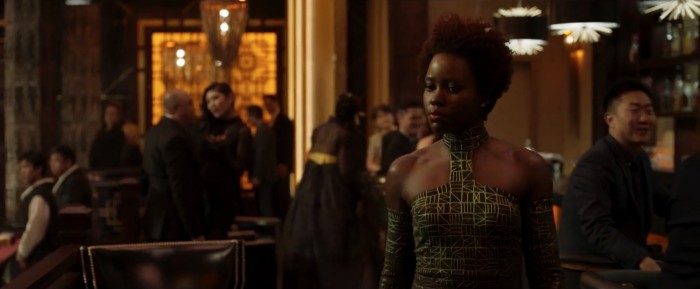 Nakia
A Wakandan spy pulled from her mission abroad by her former flame T'Challa, Nakia consistently gets involved in conflict for the good of others, adamant to use her abilities to help those in need. In the wake of King T'Chaka's death and the rise of Wakanda's new enemies, Nakia puts her skills of subterfuge and hand-to-hand combat to use in order to fight alongside Black Panther.
One wonders what Nakia (Lupita Nyong'o) was doing when she's called back to Wakanda. Will it have something to do with helping set up Avengers: Infinity War? We'll likely have to wait to find out until we see the movie. Since the character has a romantic history with T'Challa, that should create a little bit of tension between the characters every now and then, but it sounds like she's loyal to her king and her people.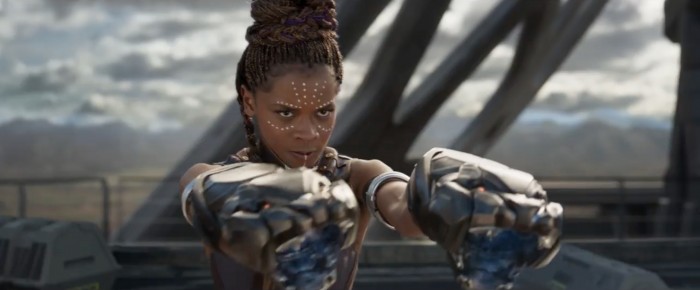 Shuri
Shuri is T'Challa's younger sister and head of the Wakandan Design Group, where she designs and builds futuristic tech such as the Black Panther suit with Vibranium mined from the Great Mound. She is an innovator, intelligent beyond her years, and always ready to give her big brother a hard time.
It sounds like Shuri (Letitia Wright) will provide some of the humor in Black Panther by way of her relationship with her brother. But she's also Wakanda's own Q Branch, creating various weapons to defend Wakanda when the time comes, not to mention creating a new Black Panther suit for T'Challa. One has to wonder how Erik Killmonger gets the technology to build his own suit though. Could Shuri end up betraying Wakanda?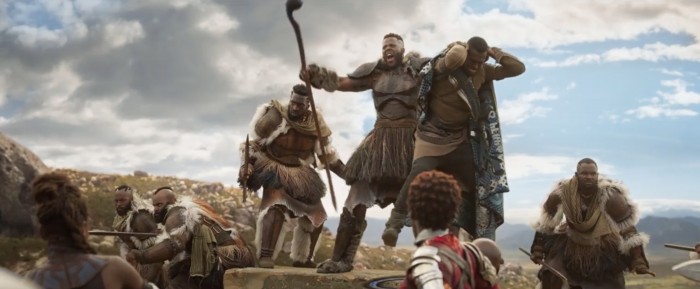 M'Baku
Armed with the hardened Jabari wood armor and a battle staff, M'Baku is the formidable leader of the Jabari tribe, a group of Wakandans who have shunned the use of vibranium and removed themselves from the mainstream Wakandan life. In the wake of T'Chaka's death, M'Baku is faced with the choice of challenging T'Challa for the throne, or joining forces with his would-be adversary to defend Wakanda from malevolent outside forces.
So M'Baku (Winston Duke) doesn't align with the ideals of the rest of the Wakandan people, and he leads a group of outsiders who do not like the direction the nation has taken. This character is very intriguing, because he could end up being a force to be reckoned with for T'Challa, but it sounds like he's not necessarily a fan of what Erik Killmonger has in store for Wakanda ether. Speaking of which...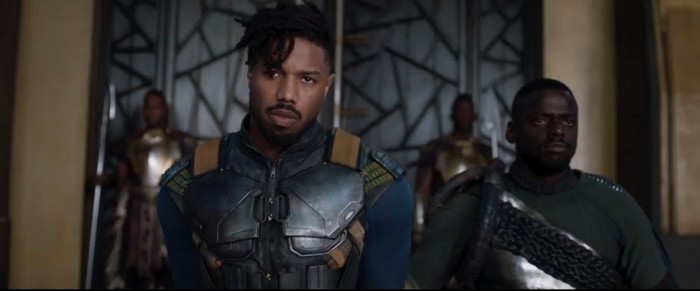 Erik Killmonger
Erik Stevens was an American black-ops soldier who earned the nickname "Killmonger" while in the field. However, after disappearing off the grid, he has reemerged with a plan that threatens to put Black Panther and all of Wakanda at risk. Using his charisma, considerable skills in combat and his surprising knowledge of Wakandan customs, Erik Killmonger is a dangerous threat to all that T'Challa holds dear.
There's no further explanation as to why Killmonger (Michel B. Jordan) wants to destroy Wakanda as we know it, but in the comics, his family is shunned after his father works for Ulysses Klaue for a time. He also believes that the actions of the former king T'Chaka led to the death of his parents. If that remains true in the Marvel Cinematic Universe version of the character, then he likely has an axe to grind with T'Chaka's son taking over the throne.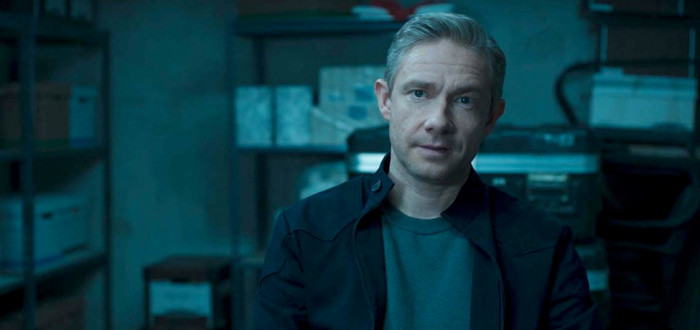 Everett Ross
A CIA agent and former liaison with the Joint Terrorism Task Force, Everett Ross is reunited with T'Challa when they both find themselves after the same adversary: Ulysses Klaue. A skilled tactician with advanced weapons training, Ross becomes an invaluable ally to the Black Panther.
We were introduced to Everett Ross (Martin Freeman) in Captain America: Civil War. It appears he's not meddling in superhero squabbles at the moment, but is instead hot on the trail of Ulysses Klaue, which leads to him discovering more about Wakanda. Just how involved with Ross get with the Wakandan war that's ahead? It likely depends on how much of a threat it poses to the rest of the world.
***
We're not sure why Ulysses Klaue doesn't get his own character bio here, especially since he seems to be a key part of the story based on not only the information found in these character bios. Maybe his role in the movie is short-lived and Killmonger dispatches with him when he gets the chance.
We'll find out when Black Panther arrives on February 16, 2018.