'Death Wish' Trailer: Bruce Willis Is A Trigger-Happy Vigilante In The Modern Remake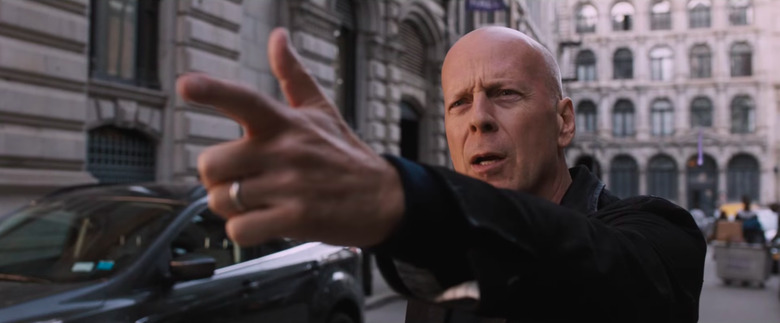 Bruce Willis with a gun is perhaps one of the most familiar images we could see on the big screen. But there is something quietly discomfiting about Willis wielding a gun in Eli Roth's remake of the 1974 Charles Bronson revenge thriller Death Wish.
Perhaps it's the remarkably unsubtle way that Roth portrays a man dealing with grief after his wife was killed and his daughter rendered comatose by home invaders, producing a trigger-happy thriller about the glories of vigilantism. Perhaps it's the terrible timing with the U.S. still in disarray over gun laws and mass shootings. But hey, at least we get to see Bruce Willis do what he does best.
Death Wish Trailer
Bruce Willis plays Paul Kersey, a mild-mannered surgeon who is suddenly compelled to a life of brutal revenge against the petty and powerful criminals of Chicago after the murder and injury of his wife and daughter goes unsolved. Frustrated with the lack of action on the part of the police, Paul takes matters into his own hands and becomes a vigilante that soon captures the imagination of the city.
The movie is a remake of the 1974 Death Wish starring Charles Bronson, a revenge fantasy that distilled white male rage into an action film. It was not alone. Other borderline-exploitative thrillers from that era have glamorized vigilante justice, portraying previously mild-mannered men becoming the embodiment of brutal masculinity like in The Last House on the Left or Dustin Hoffman's Straw Dogs. But those films, while an intriguing snapshot of the cultural chaos of the '70s, may not have a place in pop culture today. The trailer for Bruce Willis' Death Wish embodies this, taking a gleeful shoot-'em-up approach to matters much more complex than they're depicted. There's a reason that the movie has received criticism as an "alt-right fantasy" that glamorizes gun violence.
While I'm sure that Bruce Willis is hoping that this film will be his Taken, it may well end up going the route of 2011's forgotten Straw Dogs remake.
Here is the official synopsis for Death Wish:
Dr. Paul Kersey (Bruce Willis) is a surgeon who only sees the aftermath of his city's violence as it's rushed into his ER – until his wife (Elisabeth Shue) and college-age daughter (Camila Morrone) are viciously attacked in their suburban home. With the police overloaded with crimes, Paul, burning for revenge, hunts for his family's assailants to deliver justice. As the anonymous slayings of criminals grabs the media's attention, the city wonders if this deadly avenger is a guardian angel...or a grim reaper. Fury and fate collide in the intense action-thriller Death Wish.
Death Wish is set to hit theaters on March 2, 2018.