'Disjointed' Season 2 Trailer: Kathy Bates And Her Buds Are Back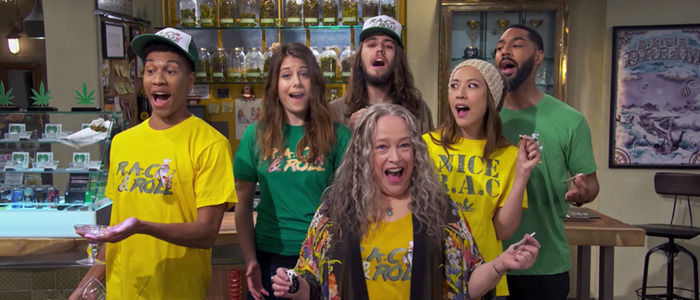 Netflix has so many shows now that it's hard to keep track of them. For instance: were you aware of the series Disjointed, featuring Kathy Bates and a whole lot of 420 jokes? It's a real show, and it's coming back for a second season! The Disjointed season 2 trailer has arrived to signal the series' return, with all the broad humor you can stand.
I write about movies and TV shows for a living, but I'll confess I'm ignorant of Disjointed, the David Javerbaum and Chuck Lorre sitcom that stars Kathy Bates as a woman who runs a Los Angeles marijuana dispensary. The first season debuted in August of 2017, and now season 2 is ready to light up for more zaniness and laugh-track laden humor. Watch the Disjointed season 2 trailer below.
Disjointed season 2 trailer
It's a new year, and I want to strive to be more positive, but I'm just going to say it: this looks terrible. Kathy Bates is a phenomenal actress, and I'm sure she gives this show her all, but based on this trailer, Disjointed is not the show for me. I didn't even realize Netflix had shows with laugh tracks, but apparently they do, and this is the result.
Technically, Netflix ordered twenty episodes of Disjointed, and then broke them into two parts – so this isn't so much Disjointed season 2 as it is Disjointed part 2. The new episodes of Disjointed follow Bates' character Ruth Whitefeather Feldman, who employs her son and a team of young "budtenders" to help run a marijuana dispensary. Here's the official synopsis:
Disjointed is a workplace comedy starring Kathy Bates as a lifelong advocate for legalization who's finally living her dream as the owner of an L.A.–area cannabis dispensary. Joining her are three budtenders, her twenty-something son and a deeply troubled security guard. All of them are more or less constantly high.
In addition to Bates, Disjointed also features Aaron Moten, Elizabeth Alderfer, Tone Bell, Elizabeth Ho, Dougie Baldwin, Betsy Sodaro and Chris Redd. Executive producer Chuck Lorre is also one of the masterminds behind shows like The Big Bang Theory, Mom, Mike & Molly, Two and a Half Men. Since I avoid all of these shows like the plague, it makes sense that Disjointed doesn't look particularly appealing to me. But hey, if you love Disjointed and are excited for a new batch of episodes, then please enjoy the trailer as you await the show's return to Netflix on January 12, 2018.