Watch A Teaser For Disney's Scrapped 'Haunted Mansion' Animated Series From 'Kubo And The Two Strings' Designer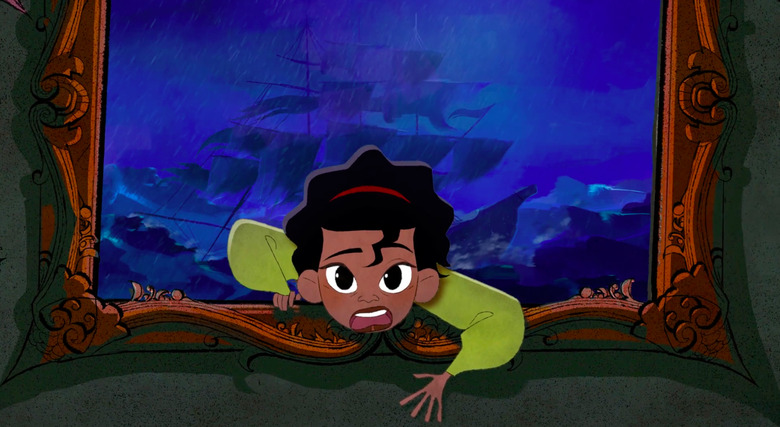 There probably aren't a lot of people clamoring for a Haunted Mansion reboot, but once you see this brief animated teaser, you might start to think differently.
The forgettable 2003 comedy-horror movie starring Eddie Murphy — itself an adaptation of the Disney parks attraction — was probably better left to collect dust in the Disney archives, but in the hands of Kubo and the Two Strings character designer and story writer Shannon Tindle, a Haunted Mansion animated series opens up a whole new world of possibilities. The animator released a brief teaser for his proposal of a Disney animated series, as well as some art that he developed for the project. Alas, the series was never picked up by Disney, but it does make me wonder what could have been.
Tindle was developing the idea for a Haunted Mansion animated series with a small team for Disney Television Animation last year. According to Cartoon Brew, he wrote two different versions of a possible Haunted Mansion pilot, one for an ongoing series and one for a limited series.
On Saturday, Tindle posted a teaser for one of the versions that he wrote (it's unclear which one), which follows a young girl who escapes a raging storm within a painting that resides in a long, eerie hallway.
"Welcome, foolish mortals, to the haunted mansion," Black-ish actress Marsai Martin narrates in the 50 second teaser. "It's going to be a bumpy ride."
The teaser was mocked up by Tindle (character design), Matt Williammes (animation), Sunmin Inn (backgrounds), Daniel Hashimoto (motion graphics), and Rachelle Reyes (character color styling."
"A little something I was cooking up at Disney, but was unfortunately scuttled," Tindle wrote in his tweet sharing the teaser. Tindle revealed to Cartoon Brew that the series would have "a lot of fun and silly elements to it" contained within a larger story told by a character struggling with grief over losing a loved one. The story "would span several years and focus on different characters, but add up to one big, interconnected story," Tindle added.
"I love playing with tone, and animation (particularly a property that has ghosts as part of its DNA) is particularly good at weaving broad fun with deeply emotional stories," Tindle said.
I'm a big fan of Kubo and the Two Strings, but less so of The Haunted Mansion — I barely remember the movie apart from a few silly faces that Murphy pulled. Turning the concept into a generation-spanning animated series is a bold move, and a perfect apparatus for so vague a concept as a "haunted mansion." I'm always bemoaning the downfall of stylized animation, and this gorgeous teaser already breaks the mold of generic CG renderings we usually see on the small and big screen.
Tindle also posted some concept art for "hitchhiking ghosts," icons from the original theme park ride, that would appear in the series.
While Disney had passed on the project, Tindle didn't close the door on the project being picked up again. Overwhelming positive reaction on Twitter has inspired Tindle to respond, "I'd still love to jump back in and make this thing!"